These gluten-free and dairy-free brownies are packed with protein and healthy fats. They make an awesome healthy dessert, and have a fudgy texture. You'll love them!
Hi friends! How are you? Thank you so much for all of Liv's beautiful birthday wishes. I read so many of them to her and she said to make sure to tell you thank you!
t's been quite a couple of weeks over here. P's flu was absolutely horrible, and watching her feel so bad broke my heart into a thousand pieces. I spent about 7 nights not sleeping, constantly worried about her, and during the day, trying to entertain Liv and keep her healthy (thankfully madre was able to take Liv a few times to get her out of the house!), going to doctor's appointments, and living off of peppermint bark and decaf coffee.
It felt really weird the other day when fever-free (knock.on.all.the.wood) P was happily playing with the dollhouse, and I wandered into the kitchen to create a recipe. You'd think that after eating a ton of chocolate over the past couple of weeks I would have made you a salad or a vegetable or something.
But no. More chocolate.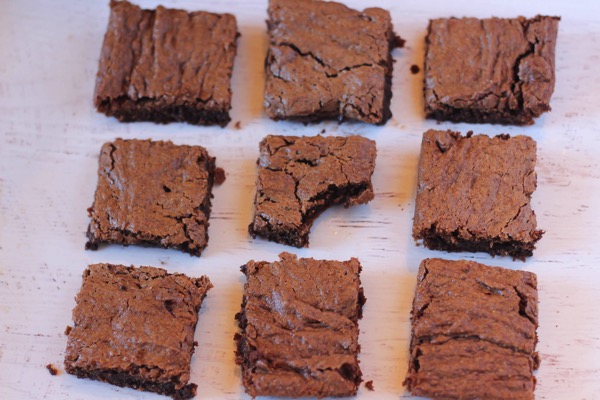 And this is RIDICULOUS chocolate.
So, about these brownies.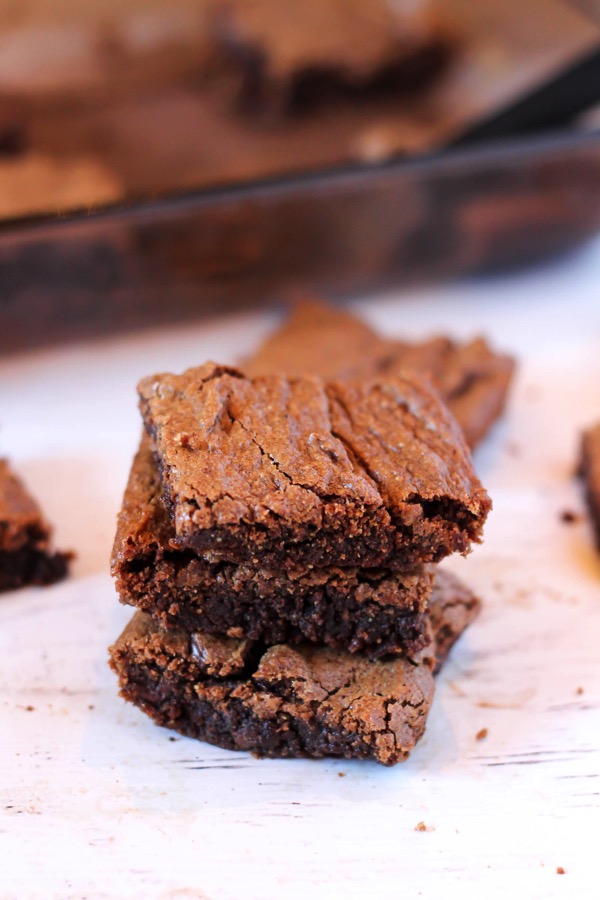 I have to admit that it offends me a little when I see a recipe online for healthy brownies and BEANS are the first ingredient. I've been thinking one day I'll get brave and go for it, but I just can't. Keep your beans out of my brownies. (But if you like beans in your brownies, rock on with your bad self. It's just not my cup of tea. If I'm having beans, I want them wrapped in a tortilla.)
There's absolutely nothing wrong with a classic brownie if that's what you're craving, too! Sometimes your soul needs a brownie from the local bakery and you need to go.for.it. Over time, I've learned to distinguish whether I want something indulgently satisfying, or when I want something that tastes really good but doesn't make my blood sugar crash.
And for those times, it's something like this.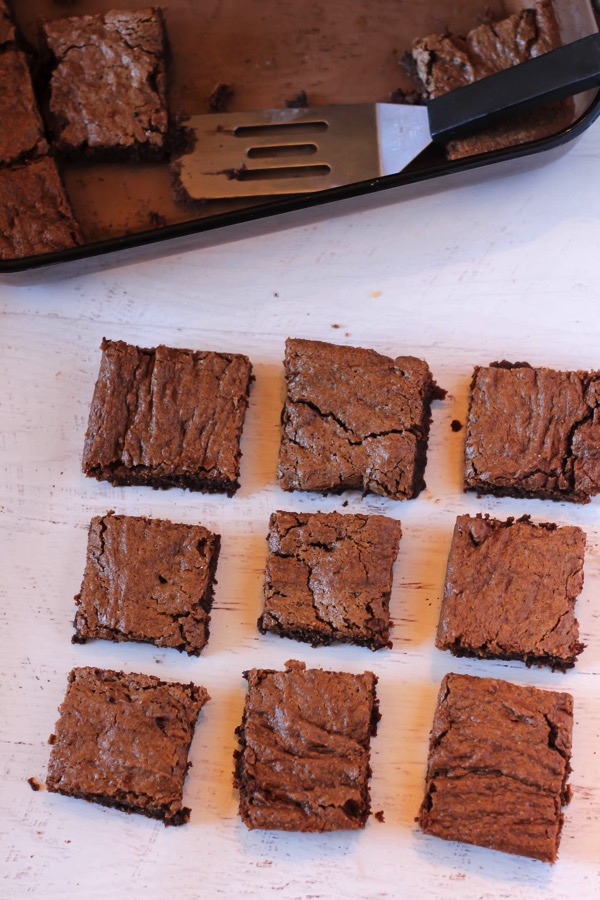 These taste like real, fudgy, dense brownies. The edges even get a little crispy — just how we like it. The secret is using almond butter as the base and building the flavors from there. The almond butter gives them a ridiculous creamy texture, just like in these beloved pumpkin bars.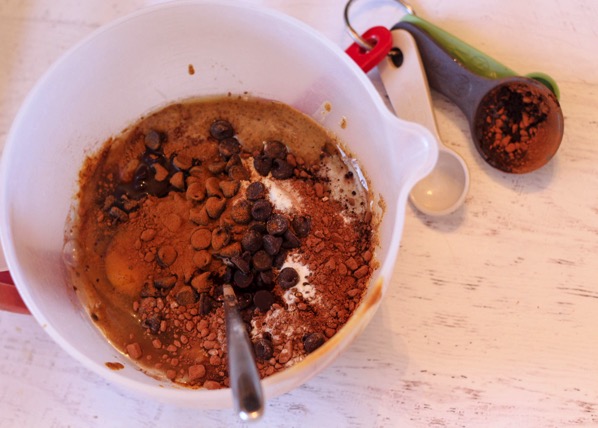 The difference is that these brownies have collagen protein and protein powder for a little something extra. ? They'll satisfy your sweet tooth and fill you up a little, too. The best part about these brownies is that they make a pretty awesome healthy snack on their own. You could also top them with your favorite coconut milk ice cream, crumble into a bowl with fresh berries, or crumble into a smoothie bowl or oatmeal.
It's been a little while since I've made a recipe for the blog where I've been like YOU HAVE TO MAKE THIS NOW. This is one of those recipes!! You have to make these. Right now. I promise you'll go crazy for them.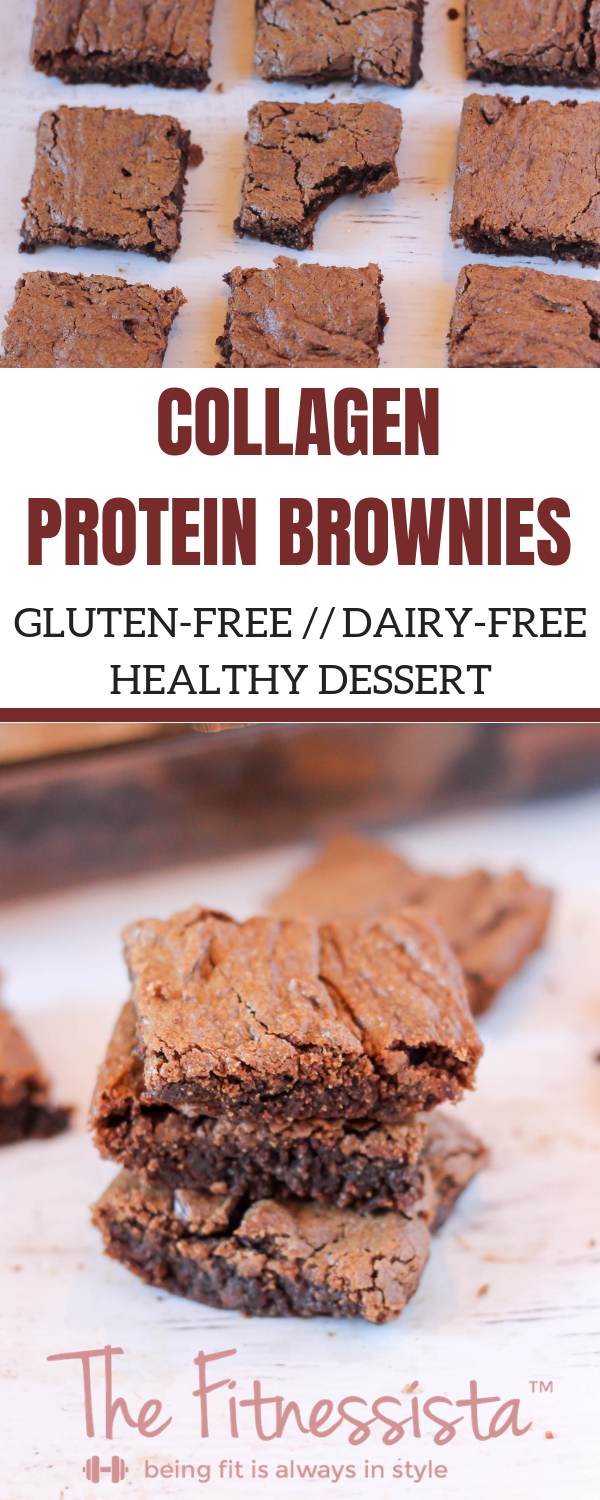 Collagen protein brownies (gluten-free, dairy-free)
Prep time: 10 minutes
Yield: 15 brownies
1 cup almond butter (creamy unsalted, from a fresh jar)
1/2 cup maple syrup
1 egg
1 tablespoon MCT oil (you can also use melted butter or liquid coconut oil)
1 scoop vanilla protein powder (I used Garden of Life. Plant-based proteins work well; I'm not sure how they'd taste with whey or egg protein)
2 scoops collagen peptides (I used Vital Proteins)
1 teaspoon vanilla
Pinch of salt
1/4 cup chocolate chips (for dairy-free, make sure to use dairy-free like Enjoy Life brand)
1/4 cup unsweetened cocoa powder
1/2 teaspoon baking soda
1. Preheat the oven to 325 and spray a 9×11-inch baking dish with nonstick spray or olive oil.
2. In a large bowl, stir the almond butter until it's light and fluffy.
3. Add the remaining ingredients and whisk until smooth.
4. Spread the batter into the pan and bake for 20-25 minutes until fully cooked around the edges.
5. Allow to cool for 20-30 minutes even though it's hard to wait!
Nutrition stats are here.
Please let me know if you give them a try!
xo
Some more of my favorite healthy sweet treats:
Sweet potato brownies
Pineapple butter rum cake
Pumpkin pie mousse
S'mores in a jar
Dairy-free protein ice cream
Gf chocolate chip cookies with avocado oil