Holiday spice sangria! It's made in advance of any holiday soirees, and the flavors just get better over the span of a few days. It's perfect to take to parties, as it's a fun switch-up from the usual bottle of vino.
Cheers to the morning.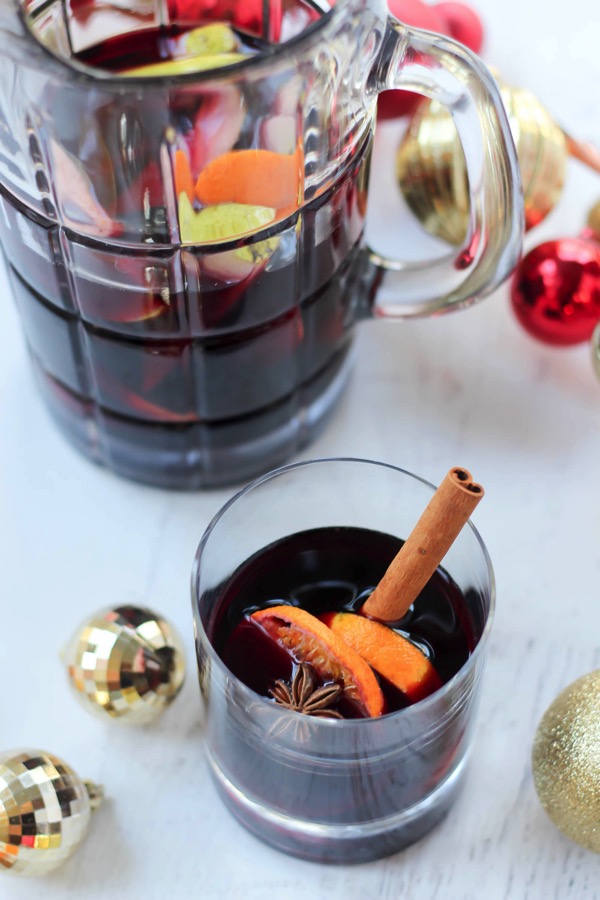 We have girls' night tonight, and I'm looking forward to all of the upcoming festivities.
I need to take a moment and question the fact that no one in Valdosta seems to have crazy holiday lights or lawn blow-ups?? I know our neighbors aren't total grinches – they're actually the best ever – but many neighborhood streets are still dark and kind of glum. In Tucson, it was almost like a competition to see who could have the most obnoxious lawn. When ours wasn't twinkly enough the first year, our neighbor came over and added to our decor hahaha. It was amazing. In San Diego, we totally decked out the yard with lights – anything goes in OB – and in Valdosta, we have a moderate display since everything seems so low-key. It's funny to see how things change with each location.
I'll definitely miss Christmas with the fam in Tucson. Christmas Eve at my dad's house with nana's enchiladas, cousin shenanigans and lounging on the couch with the best eggnog. Christmas morning at my mom's house with coffee cake and A Christmas Story while we open gifts. As much as I'll miss all of that, I'm equally looking forward to some new traditions and fun this year with just the Pilot and the girls.
I'm hosting a cookie exchange and ladies' night at our house, and we're going to take the girls to Snow Mountain before Christmas Eve. I'm still trying to decide if I'm going to do the whole turkey thing on Christmas – we usually do Thanksgiving-ish food so we can have leftovers – or try something totally random, like Italian food or poke bowls.
One thing that's for certain: this holiday spice sangria is going to be a staple for the next month or so.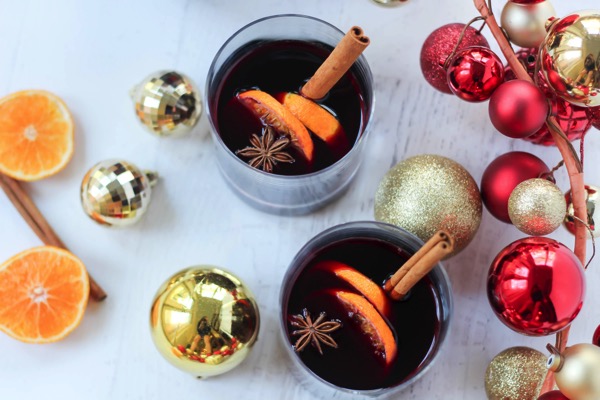 I've been waiting to share this fun, festive and slightly boozy recipe with ya!
This is a spin-off of my very favorite tequila fruit sangria, except we're using brandy instead, and infusing it with warming spices like cinnamon and anise. It has a mild citrus kick from fresh orange, and goes down a liiiittle too smoothly. You can drink this cold, or warmed up in the slow cooker like a mulled wine. Roll however you'd like to roll.
A little video just to make us all want one at 6am on a Tuesday:
And the recipe!
Print
Holiday Spice Sangria
Scale
Ingredients
2

pears, sliced

3

red apples, sliced

3

oranges (2 sliced, 1 juiced and juice reserved)

1/3

–

1/2

cup sugar

2

cinnamon sticks

3

star anise pods

1/4 teaspoon

freshly grated nutmeg

1 teaspoon

vanilla

1

bottle inexpensive red wine
Brandy
Instructions
Place the sliced fruit into a roasting dish.
Pour enough brandy over the fruit to cover completely.
Pour the orange juice on top and sprinkle with sugar.
Store covered in the fridge overnight.
The next day, add the fruit, cinnamon sticks, anise pods, nutmeg, vanilla and wine to a large pitcher.
Let set in the fridge to cool overnight.
Serve iced with a cinnamon stick and orange slice, or heat the mixture on low in the slow cooker.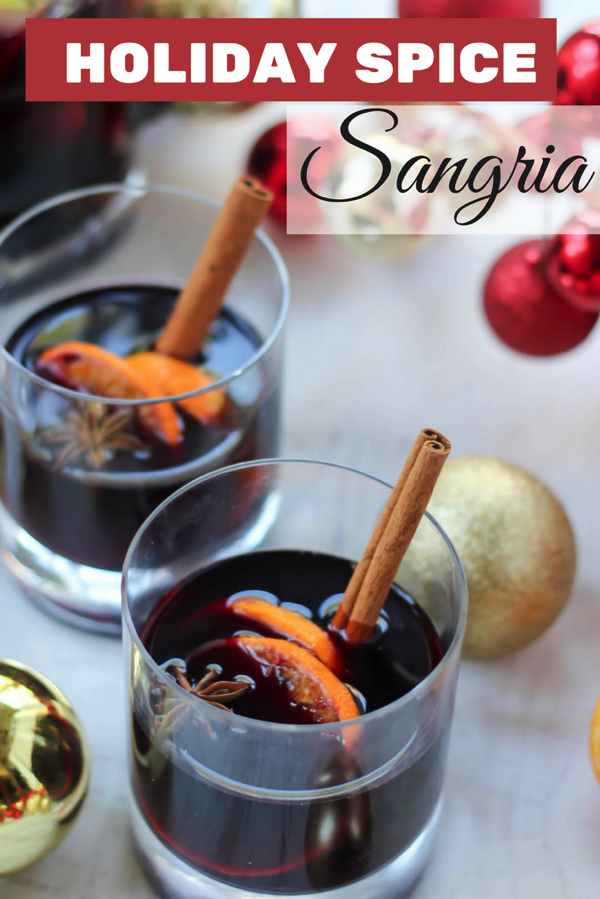 Please let me know if you give it a try.
What's your favorite holiday drink or cocktail? Are you an eggnog fan or not-so-much? This is the recipe the Pilot uses each year (and he makes me an almond milk version).
Gina
More favorite cocktails:
Kombucha cocktails
This tequila sangria
the Lucky Irish Girl
Pear-Ginger-Apple Saketini
Naughty Cocoa