Along with the handful of bases where we've been stationed, there's also a corresponding food that will bring back fond memories of that assignment. Despite the glorious Southern food that we were surrounded with, our Valdosta food was Indian cuisine: soaked up with fresh naan and enjoyed with our close friends. Our Tucson food was tamales, homemade or from our family's "tamale man," steamed in between teaching fitness classes or for breakfast with an egg on top. Our San Diego food (or mine, at least) is undoubtedly the acai bowl. I already have some wonderful memories of our new home eating this everything-you-could-wish-for in a bowl: surrounded by boxes as we started unpacking, shared with Liv on the beach, while chatting with a friend, or as a sweet reward after a long run.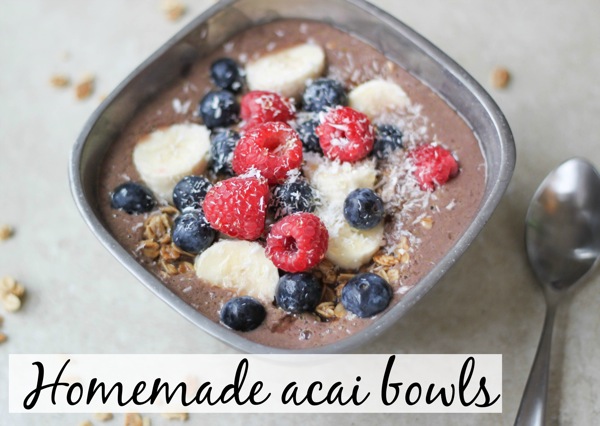 I finally started making acai bowls at home. Don't get me wrong, Tiki Port is still a weekly stop, but after I got the hang of trying a few flavor combos and varieties, I knew they'd be simple to make here at the house when a craving strikes.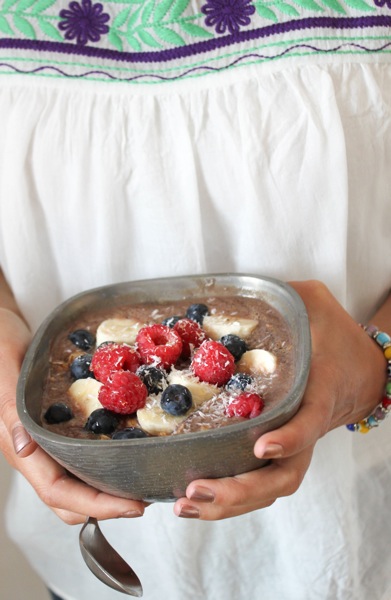 If the craving strikes during naptime, I'm out on the patio with my Vitamix, blending up my smoothie base so the motor chopping through a frozen acai smoothie pack doesn't wake noodle up. You gotta do what you gotta do. And sometimes you gotta wonder if your neighbors think you're crazy, but then again, our neighbors have 1400 cats so I think we're even?
Anyway. Acai bowls.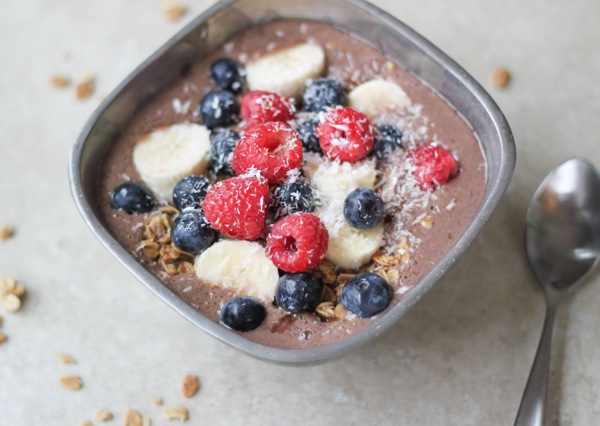 Components of an Acai Bowl
Here's how they work, if you have yet to experience the goodness:
-Acai or pitaya smoothie base (recipe below). I prefer acai because it's sweeter, but pitaya is another superfood with less sugar and a beautiful pink hue. You decide which one you like the most!
-Add your toppings: granola, fruit chopped fruit, coconut and honey are the usuals, but you can add anything (like crumbled muffins). I like adding chocolate chips and hemp seeds, too.
The end.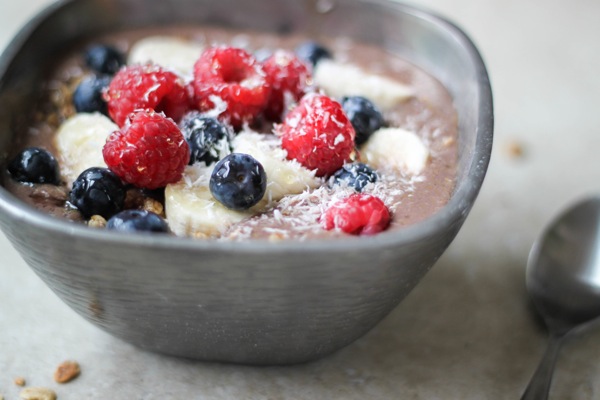 My Acai Bowl Base Recipe
-1 pack of frozen acai puree (you can find at most health food stores, and some Costcos have them in bulk for an awesome price. A pack of four will be around $3-4
-1/2 banana
-About 1 cup liquid*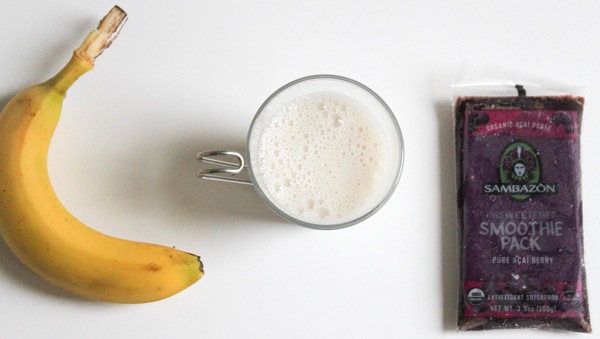 *You don't need the base to be super sweet since you're adding berries and granola. The base can be on the plain side since you'll be dressing it up, but I find that acai already has a rich and lovely taste, so you don't need to do much to it.
Homemade Acai Bowl Base Options
Customize your acai bowl base for the taste you're seeking.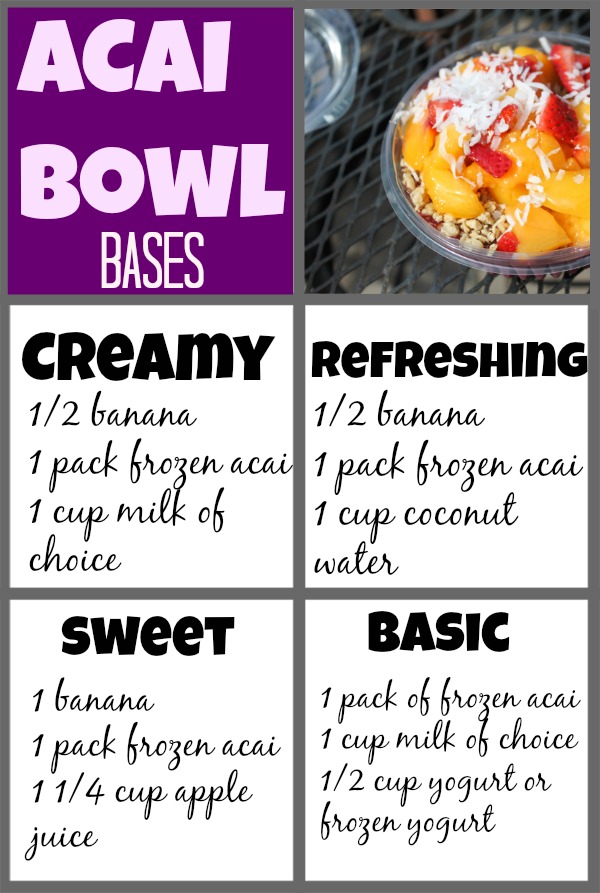 Blend up the base ingredients on high speed and pour into the bowl.
Top with your toppings of choice, and boom: instant beach food ?
Acai Bowl Toppings
The classic: granola, banana, blueberries, strawberries, coconut, honey
Tropical: granola, mango, pineapple, coconut
Decadent: granola, strawberries, dark chocolate chips
Elvis: granola, banana, honey and peanut butter
I'd like to say that the beast has been quelled now that I've been making these at home, but nope. Just as bad as ever.
Hope you have a wonderful morning <3 See ya later today on the Family page.