Happy Monday! Anything exciting happening this week? I'm not sure what we're up to today, but the weather's been gorgeous so I'll probably see if some friends want to meet up at the splash pad or zoo. I do know that we're having these salmon cakes for lunch, though. Recipe to follow!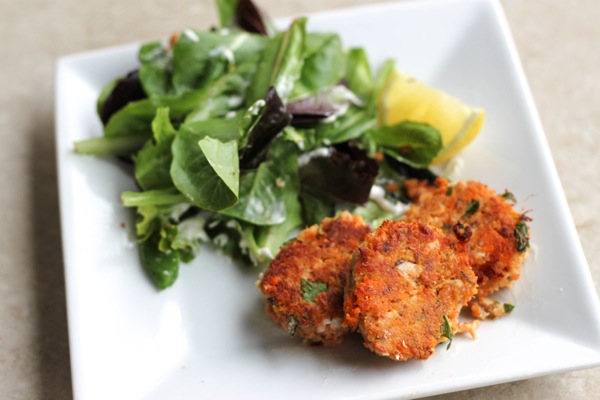 Around the House
I'm kind of stoked to have a week without official plans. According to our calendar, it's already Halloween (then the holiday hubbub begins) so it's refreshing to have a little downtime. We have some fun (and not-so-fun) projects we've been working on around the house, and after cleaning the garage, we decided to keep our piano. I suggested painting it. I was hinting that maybe the Pilot would want to do it, but he hinted that I'll be learning how to use a sander ?
(shudders)
We got a new rug for the formal living room, and I'd love to paint the piano a cool yet neutral color to match. I was planning on giving it away or selling it since it's just been sitting in the garage, but it still works great, I can play (even though it's been a while), and if Liv wants to play later, we'll have a piano for her to practice.
Salmon Cakes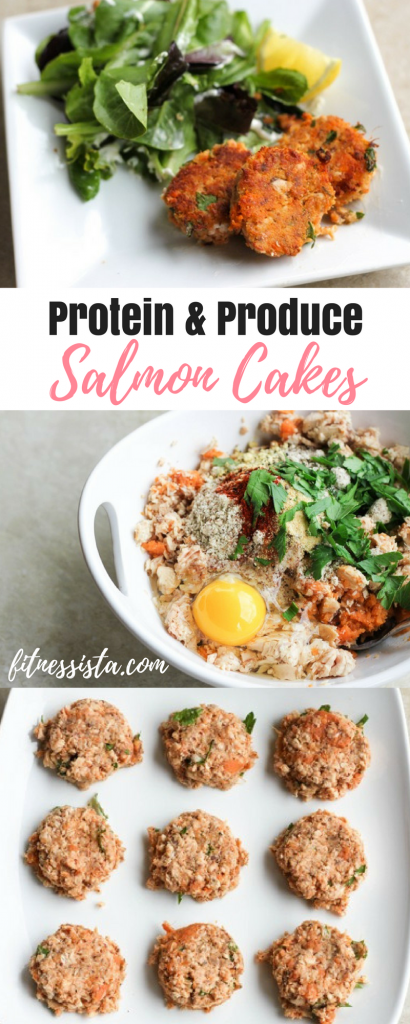 Fish in a can has always freaked me out a little, but I got realllyyyy into anchovies when I was pregnant. Since then, it doesn't bother me quite as much. It's not a regular purchase (canned fish from sustainable sources can be wicked expensive and there's also the whole BPA issue from the can), but it's a nice way to switch things up every now and again.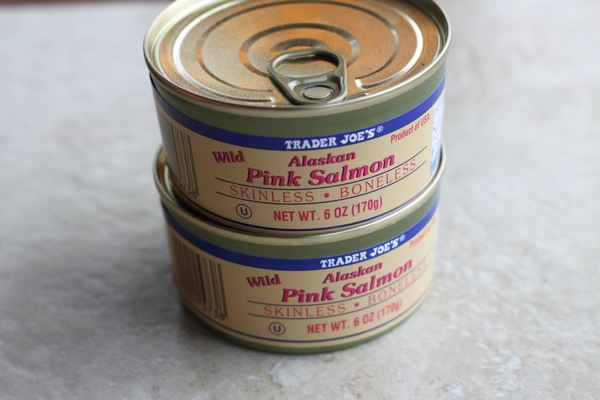 I made these salmon cakes as part of the meal prep for this week for an easy PRO meal (PROduce and PROtein). Salmon and sweet potato are one of my favorite combos for dinner (and lunch, and life), so I combined them into a tasty patty mixture,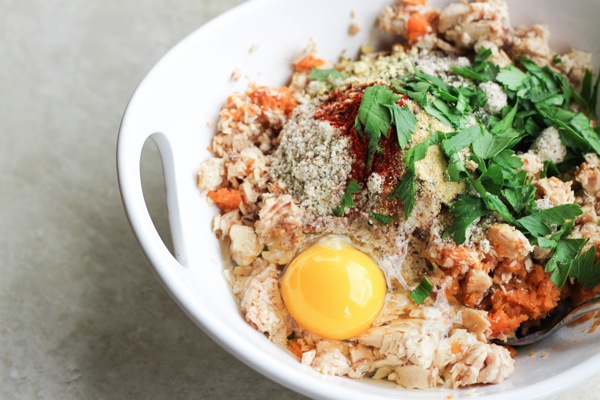 cooled in the fridge a little while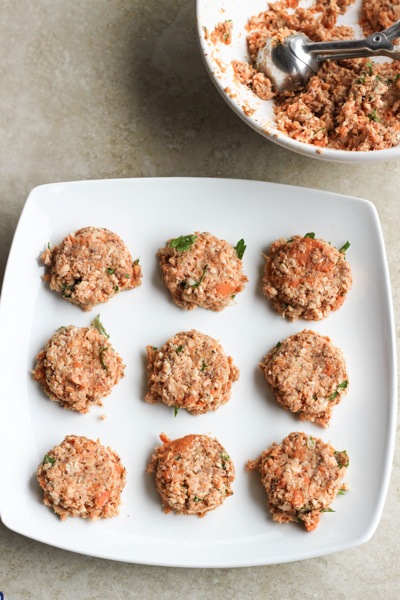 and then pan-fried until crispy.
I made a huge batch and froze them so they can quickly be reheated for a protein-packed snack or lunch component.
Here's the recipe:
Print
Salmon Cakes
A healthy protein-packed meal or snack option, with a slightly sweet twist!
Prep Time:

40

Cook Time:

6

Total Time:

46 minutes

Yield:

16

1

x
Scale
Ingredients
2

6-oz cans of salmon (no skin or bones)

6 oz

cooked sweet potato flesh

1/2 cup

almond meal

1

egg

1/2 teaspoon

garlic powder

1/2 teaspoon

dried mustard

1/4 teaspoon

smoked paprika

1/4 teaspoon

salt

1/8 teaspoon

pepper
Juice of

1/2

lemon

2 tablespoon

s chopped parsley
Instructions
Combine all ingredients in a large bowl
Form into patties and place in the fridge for about 30 minutes to set
Cook in a pan or on an electric griddle with a little butter, ghee or coconut oil
Enjoy with your favorite veggies or atop a green salad
Freeze any leftovers for a quick and delicious meal later in the week!
Hope you love it! ?
Fish fan or not-so-much? Any fave canned BPA-free brands?
Know where I can hire a piano painter in Tucson? Haha.
More salmon recipes:
How to Cook Salmon 10 Different Ways
Parchment Paper Salmon
Smoked Salmon and Quinoa Hand Rolls
Easy Garlic Lime Salmon