Hi friends! How's the day going? 'Tis the season for cooking, because I'm going crazy over here. Hope you don't mind. In this case, though, it's uncooking. These little beauties are actually totally raw, vegan, free of refined sugar, and totally delicious.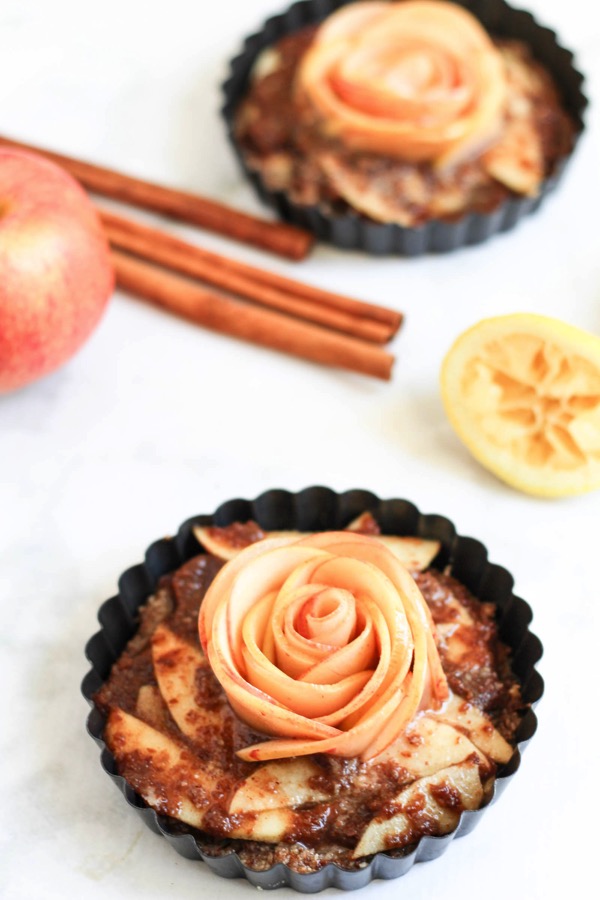 Dessert Like a PRO
Since we've been finishing up our little 7-day reset (which was extended for 7 more days per many requests!), I've noticed that my cravings have completely changed. When I'm used to an avalanche of sugar, fresh fruit and veggies don't taste as good so I don't tend to crave them or choose them as often. When I'm lacking protein or water, I'm out of touch with my hunger levels.
After our little reset, I'm back in my "Eat Like a PRO" (<— PROtein and PROduce in every meal/snack) habits, and feel balanced and energized. I've been sleeping much better, I'm not chugging caffeine all day, and my skin has noticeably improved. I haven't felt the need to go crazy for peanut butter cups (even though I'm definitely ready for that Thanksgiving dessert platter). I've been mostly rolling with sweets that don't leave me with a sugar crash… like this awesome tart.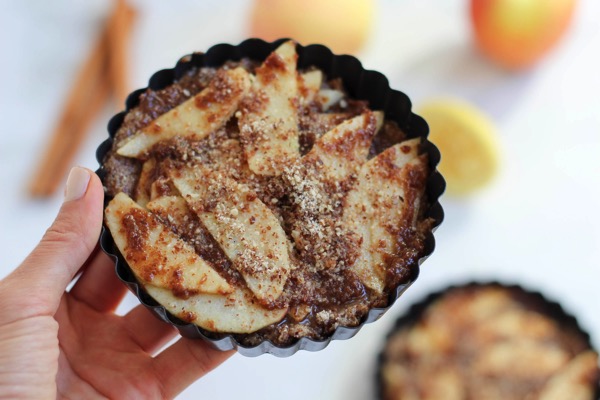 This is my favorite raw dessert base of almond meal, dates, coconut oil, a little maple syrup and sea salt. You can use it for any filling you like, like this awesome chocolate tart. (If you have any friends who say they hate vegan food, make them this tart. I made it for Thanksgiving one year, and it was a huge hit.)
The filling is sliced apples, a raisin paste (it sounds weird but gives them that thicker texture and warm flavor), and that's it.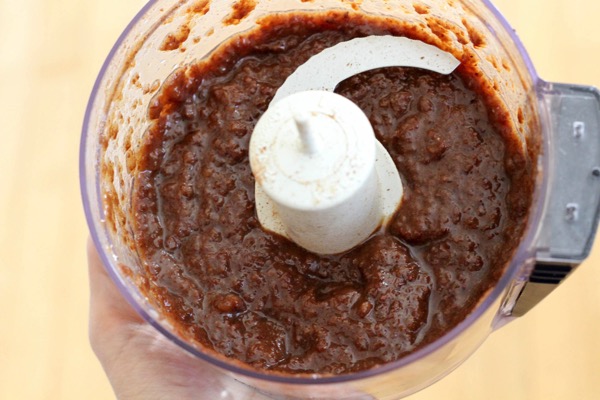 You can leave them a little on the rustic side, with almond meal dusted on top.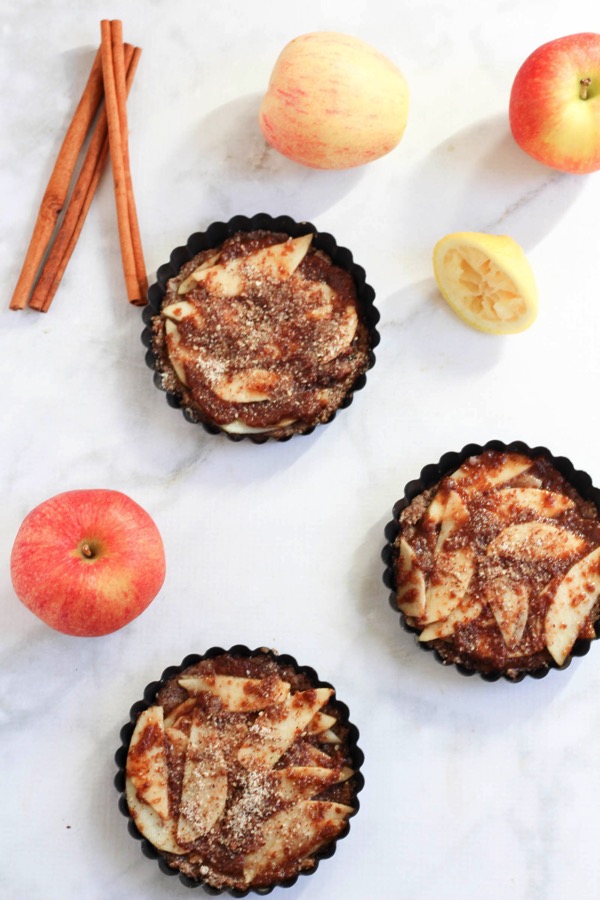 Or get a little fancy pants with an apple rose.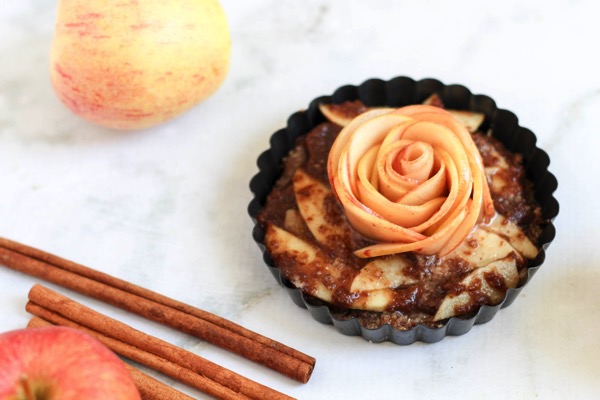 How to Make an Apple Rose
To make the apple roses, I thinly sliced the apple into moon shapes. A mandolin would be better, but I'm freaked out of cutting myself with it. Anyway, slice the apples, soak in a little lemon juice until they're soft,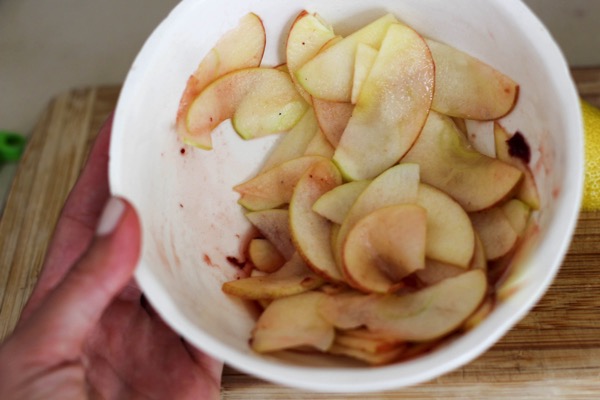 (I also added a little strawberry jam to give them a slight pink hue)
and put the apple slices in a line, overlapping them, and so the straight edge is on bottom and the curve is on top. Gently start to roll. Place this on top of the tart and surround it with apple slices to fill in the petals. It was a little tedious, but Liv ate an entire tart because she couldn't get over how pretty it was. I call that a win alone.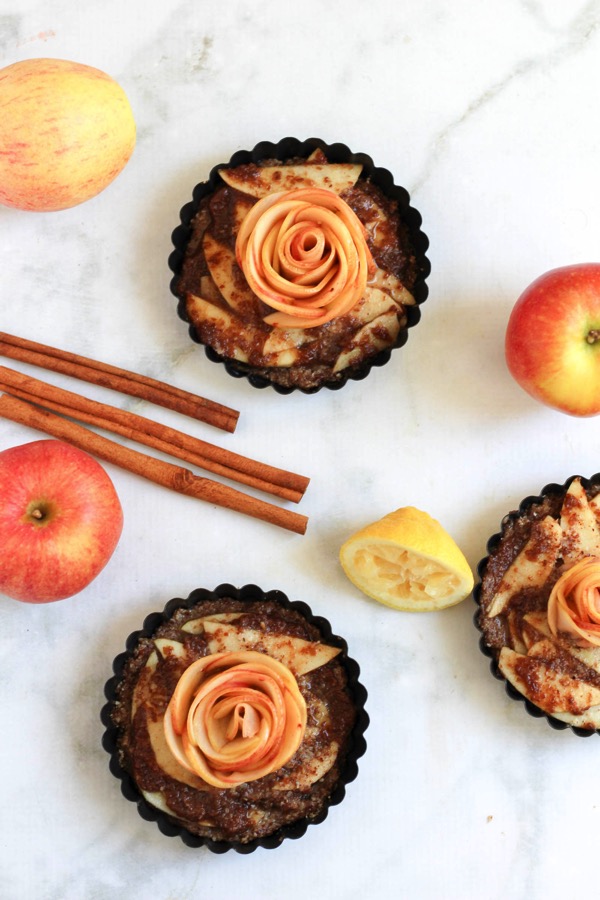 So, How Delicious Are They?
While these are absolutely delicious, they definitely taste healthier than your usual apple pie. Would I serve them to company? Probably not. But will I have a batch on hand when the sweet tooth comes knocking at 11pm? Absolutely. They're an awesome boost of healthy fat, fiber, and taste delicious.
Let me know if you give them a try!!
Here's the recipe.
Print
Raw apple tart with almond meal crust
A delicious and healthy sweet treat with an almond meal crust, + spiced apples
Scale
Ingredients
For the crust
1 cup

almond meal

3

medjool dates, pitted

1 tablespoon

coconut oil
Pinch of sea salt

1/4 cup

maple syrup
For the raisin paste
1/2 cup

raisins soaked in 1 cup water overnight

1/2 teaspoon

cinnamon

1/2 teaspoon

vanilla

1/8 teaspoon

nutmeg

1/8 teaspoon

cloves
Splash of lemon juice
Drizzle of maple syrup
For the filling
2

apples, peeled and sliced (+ more if you want to make an apple rose)
Juice of

1/2

lemon
Instructions
1. In a small food processor, make the crust by combining the almond meal, dates, salt, coconut oil and maple syrup. Pulse until a dough forms. It will be a little sticky! Just roll with it.
2. Press the dough onto the bottoms of 4 ramekins or small tart pans. Cover, and store in the fridge.
3. Make the raisin paste. Drain the raisins, but reserve 1/4 cup of the soaking liquid. Add the soaking liquid, raisins, cinnamon, vanilla, nutmeg, cloves, lemon juice and maple syrup into a blender or food processor, and puree until smooth.
4. Place the sliced apples into a bowl, squeeze lemon juice on top, and stir to combine. Add as much of the raisin paste mixture as you would like.
5. Start to fill the tarts with the apple mixture, using as much as you'd like. Sprinkle almond meal on top, or make an apple rose to place on top to garnish
Notes
No apples? Pear works, too!
Happy happy Thursday, friends!