Hi friends! Happy Week 3 of Summer Shape Up! Thank you so much for all of your awesome check-ins this past week. Way to crush it! Keep up the awesome intensity and hard work. It's hard to believe we're halfway through! For all of the Summer Shape Up details, check out this post.
Before we dive in, huge congrats to the winners of last week's bobble giveaway:
-Cassie
-Daniela
-Melissa
-Lissy
-Kyra
-Katie
-Katie H.
-Jenn
-Sarah T.
-Megan
Check your emails, friends! I know you will love your new bobble sport as much as I love mine!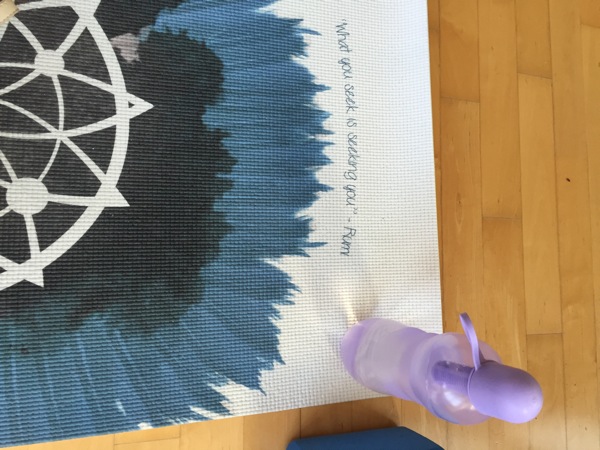 Alright, lead's get this Week 3 party started. ?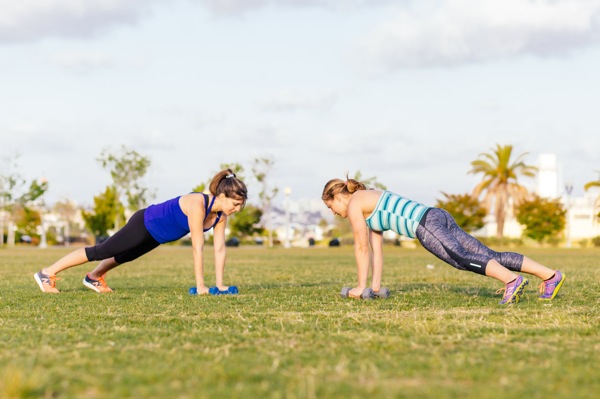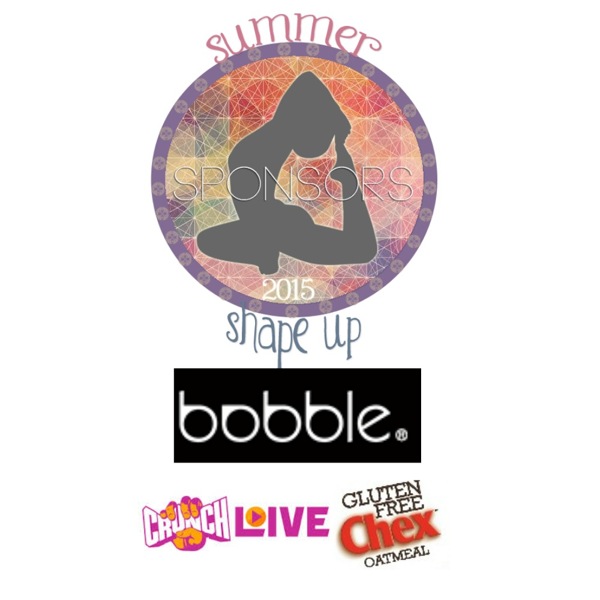 A special "thank you" to all of this year's Summer Shape Up sponsors:
bobble: makers of my new fave water bottle which filters as you drink and is BPA and PVC-free
Crunch Live (use the code "SSU30" for a free 30-day trial!): my fave workouts so far are Overdrive, Bellatone and Yoga Body Sculpt
and Gluten-free Chex Oatmeal, which is the perfect texture for baking, hot morning oats and cold overnight oats, and snack creations. They're also an ideal component for savory recipes. (This savory oat bowl looks amazing.) Gluten-free Chex Oatmeal is this week's featured sponsor, and to celebrate, I made a new snack recipe.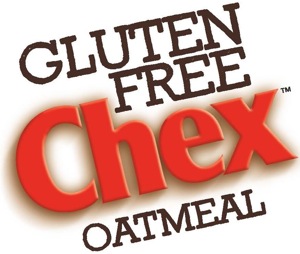 It's perfectly portable, packed with healthy fats and protein, and it tastes like candy. Wins all around.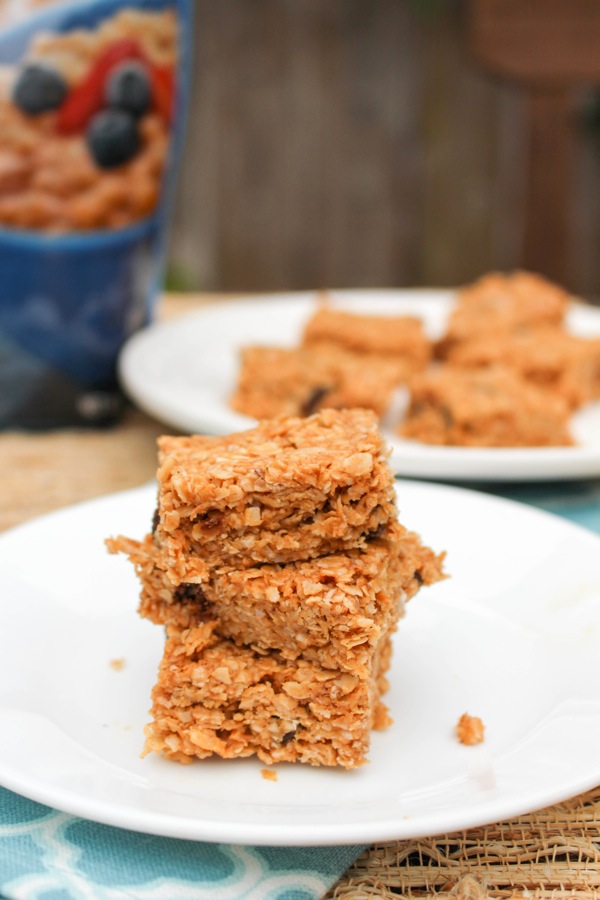 No-bake peanut butter oat bars!
I didn't make these too sweet on purpose, because I've found that many no-bake bars make my teeth hurt. It has just the right amount of honey for sweetness, and peanut butter to hold everything together.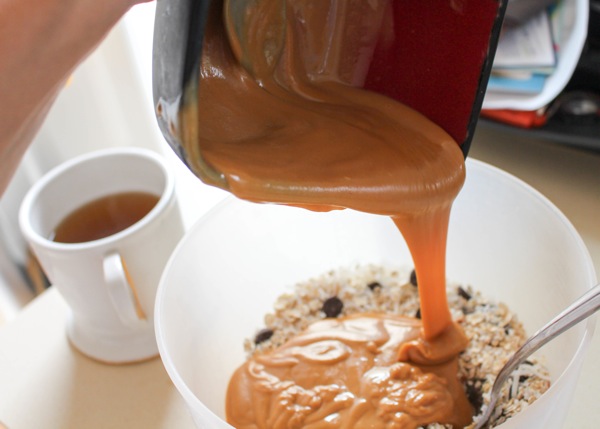 If you're the type of person who likes digging chocolate chips out of the peanut butter jar (aka why we're BFFs) this recipe is for you.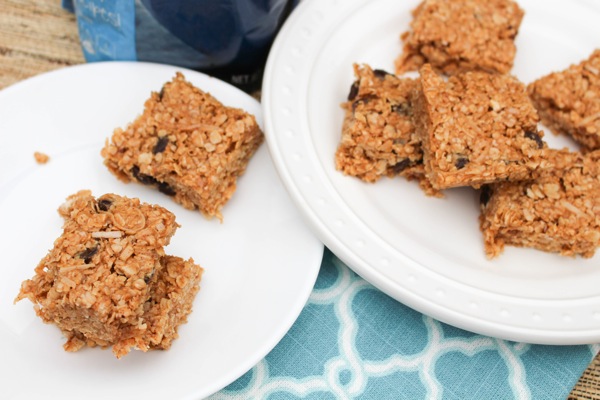 Print
No-bake Peanut Butter Oatmeal Bars
A delicious and lightly sweet portable snack option. Like digging out of the peanut butter jar, but with a little more staying power.
Prep Time:

10

Total Time:

10
Scale
Ingredients
1 cup

creamy peanut butter

1/4 cup

honey

1 tablespoon

coconut oil

1 teaspoon

vanilla

2 cup

s quick-cooking oats

1/4 cup

unsweetened shredded coconut

1/4 cup

chocolate chips

1/2 teaspoon

cinnamon
pinch of sea salt
Instructions
1. Line a glass baking dish or storage container with enough parchment paper to overlap the sides. (This makes the bars easy to remove and cut.)
2. In a glass bowl, combine the peanut butter and honey until smooth. If you're using cold peanut butter, heat these in a double-boiler or in the microwave for about 30 seconds to whisk until smooth. Stir in the vanilla and coconut oil.
3. In another bowl, whisk the oats, coconut, chocolate chips, cinnamon and salt until combined. Pour in the honey and peanut butter mixture, and stir until full mixed.
4. Press the mixture into your baking dish and store covered in the fridge for about one hour until set. Remove the parchment paper to cut into bars or squares and store in the fridge.
These would be a perfect component in this week's meal plan, which you'll find below. Here are this week's workouts! It's a mix of barre, HIIT, strength, rest and ab burning.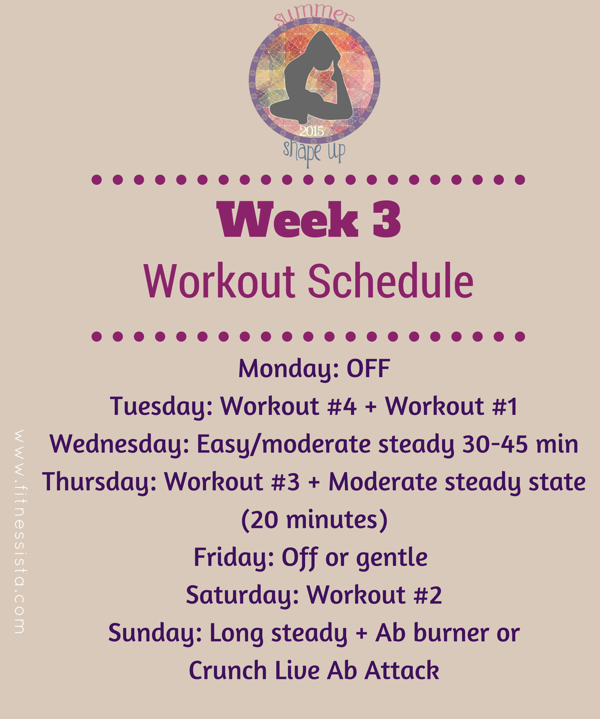 Workout #4 + Workout #1
Easy/moderate steady 30-45 minutes (maintain the same quick pace and moderate incline for your entire workout)
Workout #3 + moderate steady state (20 minutes)
Workout #2
Long steady (45-60 minutes; go for a long run or jog, or take a cardio class you love) + Ab Burner or Crunch Live Ab Attack (use the code "SSU30" for a free 30-day trial)
Here's what the eats are looking like! Feel free to mix and match according to your unique needs and preferences.
Breakfasts:
Grain-free banana bread with two scrambled eggs (or one serving plain yogurt)
The best breakfast sandwich ever
High protein oatmeal
Almond butter banana breakfast bars
Lunches:
Almond avocado kale salad atop quinoa
Mexican stuffed sweet potato
Easy lentil veggie burger with a big salad
Avocado chicken salad
Dinners:
Pineapple chicken veggie skewers with spicy peanut butter sauce
Slow cooker veggie, turkey and feta lasagna (one of my very faves)
Healthy hearty chili
Crustless quiche with spring vegetables
Cashew crusted salmon with roasted veggies (we had this for dinner last night and it was fantastic!)
Snacks:
Chocolate chip cookie dough bars
Peanut butter cup amazeballs
Green smoothie juice
Peanut butter banana smoothie
Treats:
Raw brownie cheesecake raspberry bars
Sweet potato brownies
Coconut water popsicles
It's check-in time! This week's giveaway is courtesy of our friends at Gluten-free Chex Oatmeal and includes an awesome prize pack. One lucky winner will receive 1 case (8 pouches) of Gluten-free Chex Oatmeal, 1 Love Oatmeal spoon, and a $50 Visa gift card.
Just leave a comment below each day this week when you complete a workout. You don't have to be following the Shape Up exactly to participate, and today is a freebie: it's an off day. ?
Ready, set, go!