That's a mouthful, huh? This is a super healthy breakfast casserole dish you can make ahead for the week, with a unique sweet potato "crust." ?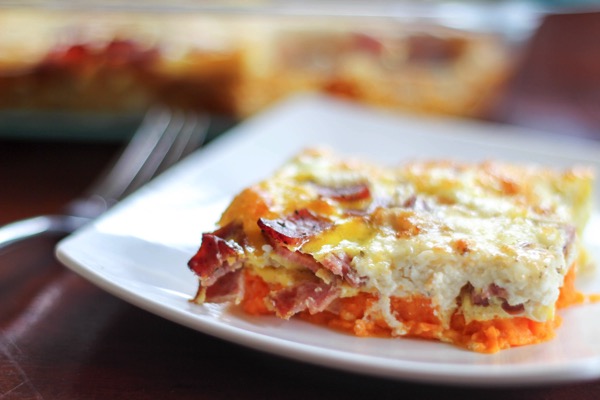 Lately we've been meal planning and prepping MACHINES. Thankfully, the Pilot decided to focus on eliminating sugar and cleaning up the eats the same time I did. It would be REALLY hard to stick with it if he was bringing boxes of donuts home. (Why do I like donuts so much lately? Maybe because they're everything that's delicious in the world: bread, fried, and sugar.) Anyway, when the Pilot commits to something, he gives it 100%. He's been helping me plan meals, grocery shopping (he and Liv usually do the Sunday errands while I hang out with Miss P, clean the house and catch up on work), and prepping like crazy. Sunday nights, our house is a table of grilled meat and chopped vegetables.
We're focusing on really amping up the protein -I'm eating a lot more carbs and proteins than usual- and finding new ways to do it. One of my favorites is to take Goat's milk Greek yogurt (you can get it at Whole Foods) and add a scoop of protein powder with fresh berries. I also love anything that can be made ahead, like protein-packed salads, wraps, and egg dishes.
Why I Love Egg Dishes
They freeze extremely well, so it's easy to make a large quiche or egg dish to reheat later
They're versatile. Wrap it in a tortilla with hot sauce, top a salad with egg dish, or enjoy it with some hot oats or toast
Because eggs. They're probably my favorite food. ?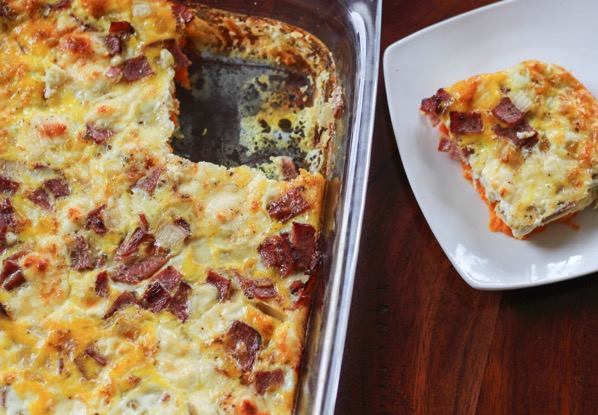 Healthy Breakfast Casserole
For this egg dish, I added some components to make it a whole meal on its own:
sautéed onion, garlic, and bacon for a burst of flavor
(spinach and/or arugula would be delicious, too! We just got back from vacation and the greens in our fridge were like no.)
creamy goat cheese
and a sweet potato bottom. This gives it an unexpected touch, and the lightly sweet flavor is awesome with the savory egg topping.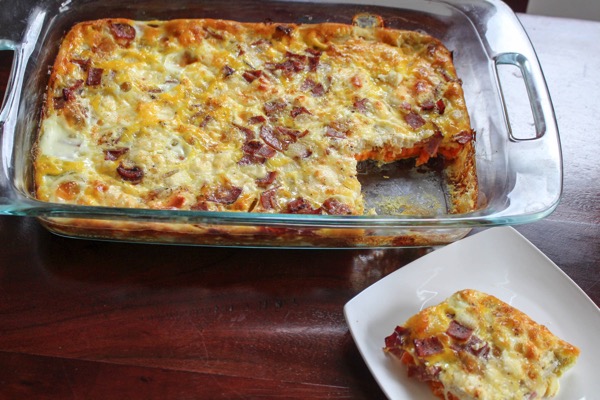 You can make this and freeze in portions to last the entire week, or to save for the times when you want a healthy, quick, protein-packed snack.

Let me know what you think! What's your current go-to breakfast? Do you usually plan ahead for the week? What's on the menu? Looking for inspiration since I'm headed to the grocery store this afternoon.
Print
Sweet potato, turkey bacon, and goat cheese egg bake
A delicious and healthy breakfast recipe you can make in advance to enjoy the entire week.
Prep Time:

10

Cook Time:

40

Total Time:

50 minutes
Scale
Ingredients
2

sweet potatoes, peeled and cut into

1/2

–

1

inch slices

1

small sweet onion, diced

8 oz

turkey bacon, chopped

2

cloves garlic, minced

8

eggs

1/4 cup

almond milk
Salt, pepper, and garlic powder to taste

4 oz

creamy goat cheese
Instructions
1. Preheat the oven to 375 and spray a large glass baking dish with olive oil or nonstick spray.
2. In a medium saucepan, add the sweet potatoes and enough water to fully cover them, and bring to a boil. Boil for 7-9 minutes, until you can pierce easily with a fork. Drain, and set aside.
3. While the sweet potatoes are cooking, saute the turkey bacon, onion and garlic in olive oil in a large pan. Season with salt and pepper.
4. Layer the casserole! On the bottom of the dish, add the sweet potato rounds in one even layer.
5. Top with the turkey bacon and onion mixture, and spread evenly.
6. Make the eggs! Whisk the eggs, almond milk, and seasonings in a large bowl. Crumble in the goat cheese and season well with salt, pepper, and garlic powder. Stir to combine. Pour this mixture on top.
7. Bake for 35-40 minutes until bubbly and golden brown.
Notes
If you're going to use this as meal prep, separate into portions and cool completely before freezing. I like the wrap in Saran wrap and then place all servings into a large freezer bag.
xoxo
More of my favorite egg dishes:
Nana's famous egg dish (I should just end this list here)
Green chile egg casserole
Egg muffins
Healthy egg salad