This salad is a fall dream come true. It has butternut squash, spicy arugula, a tangy vinaigrette, chicken, pumpkin seeds, goat cheese. It's perfect for any holiday gatherings or parties and makes a veggie-packed side dish. My vegetarian friends can easily omit the chicken and it's just as delicious without it.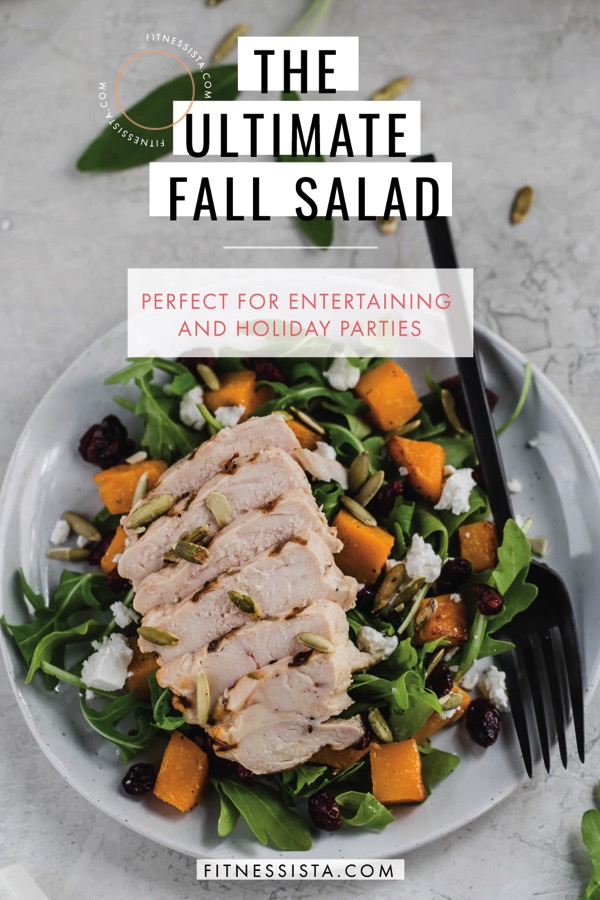 This recipe is for all of my friends out there who, like me, are welcoming fall with open arms. It was a hot one here in Tucson – and we missed half the summer! – and autumn always feels like a fresh and cleansing start to the holiday season. In the most basic way, you can find me carrying gourds, cinnamon brooms, and all the pumpkin things (while wearing booties and a plaid shirt) in Trader Joe's. No shame in my fall game.
Also it makes me think of this meme, which gives me a good chuckle every single time I see it.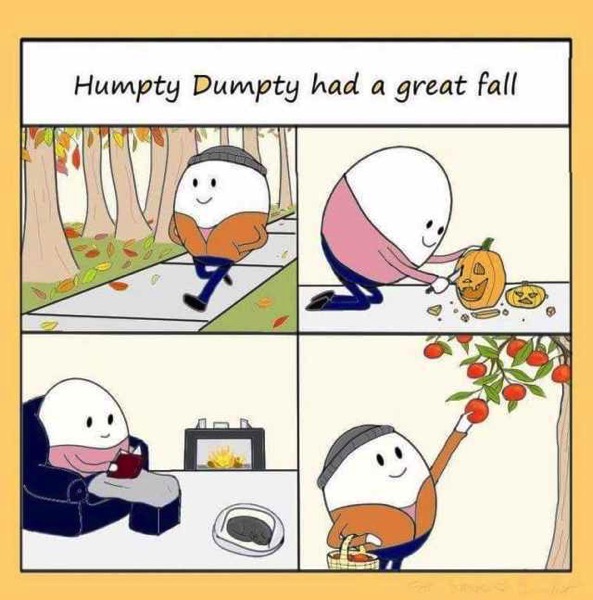 Source
I thought I'd create a recipe that would embrace the autumn produce and flavors we love so much, but also provide some type of nutrients during a time when vegetables can be a little scarce. (Let's be real, you can go ahead and plop me into a Thanksgiving gravy boat like right now.)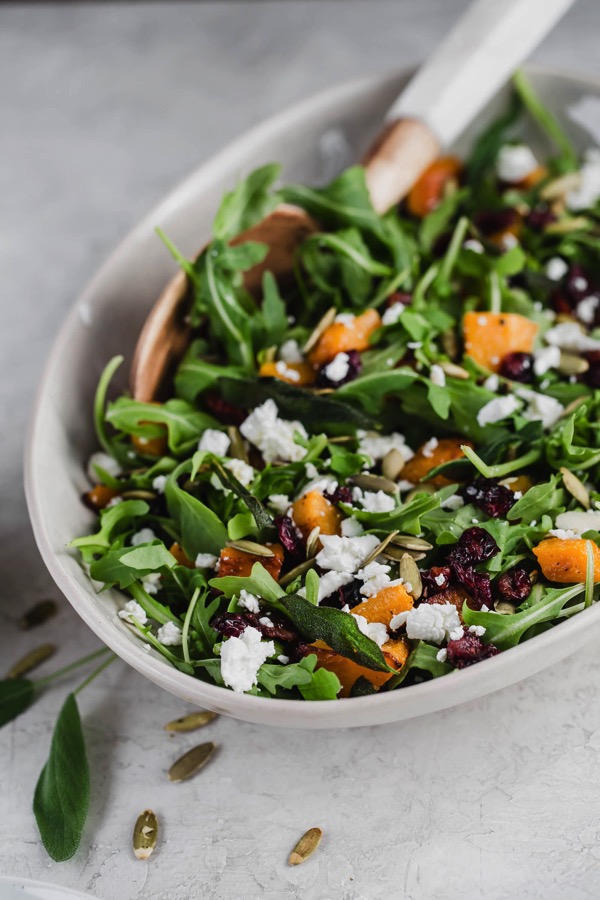 This salad is festive enough to serve as a holiday or party side dish, or can provide a quick and healthy dinner or lunch. I hope you love it as much as I do!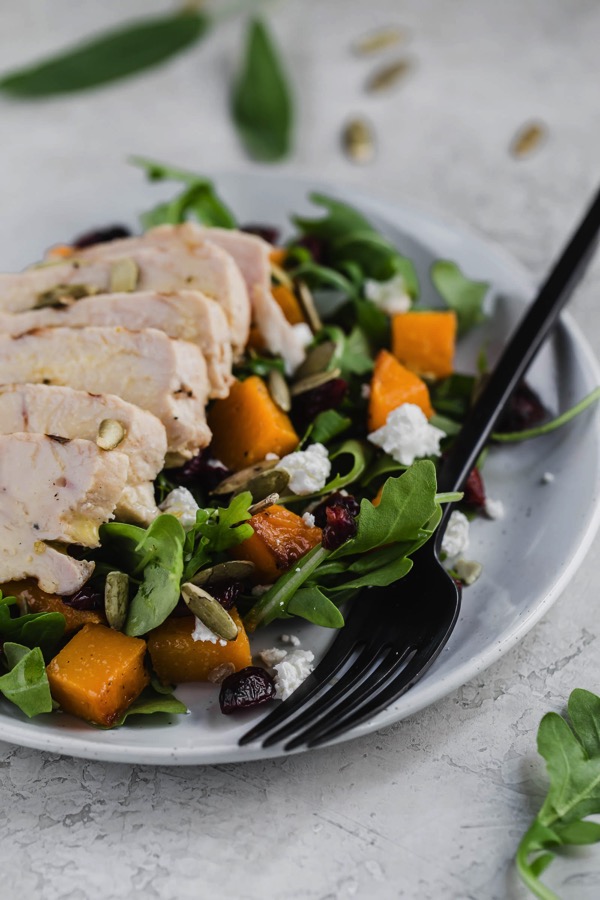 Here's the recipe if you'd like to give it a try.
The Ultimate Fall Salad (gluten-free, vegetarian option)
Makes 4 large servings
Ingredients:
– 2 cups butternut squash, cubed
– 3/4 cup dried cranberries (+ about a cup of orange juice to rehydrate)
– 4 oz goat cheese, crumbled
– 1/3 cup pumpkin seeds
– arugula (use as much or as little as you like)
– Grilled chicken (can also use tofu or salmon), grilled with salt, pepper, and olive oil
For the dressing:
– 1/2 olive oil
– 3/4 cup orange muscat vinegar (use less if you prefer it less tangy)
– 1/2 teaspoon oregano
– 1/2 tablespoon honey
– 2 cloves fresh minced garlic
– 1 teaspoon Dijon mustard
– salt and pepper to taste
For serving:
– Crispy sage (fry in oil on the stovetop and set on paper towels. Season with salt)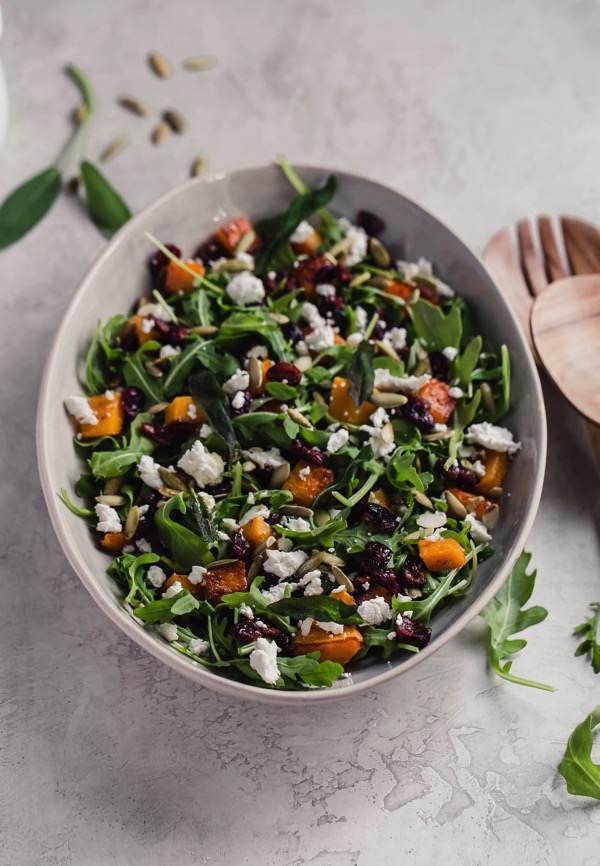 Directions:
1. Roast butternut squash for 30 minutes at 350 with olive oil, salt and pepper
2. Rehydrate the dried cranberries by soaking in the orange juice.
3. Combine all dressing ingredients in a glass jar. Cover and shake well!
4. Assemble salad with arugula, butternut squash, chicken, goat cheese, pumpkin seeds, dressing, cranberries, and top with crispy sage.
Enjoy!
Do you have a favorite fall salad or soup recipe? Please send them my way!
xo
More of my favorite entertaining recipes: