I started a new thing where if we're out of something, I'll try to make it from scratch. This doesn't work for the obvious staples (like eggs. We go through 172 each week), but little things like almond butter and jam.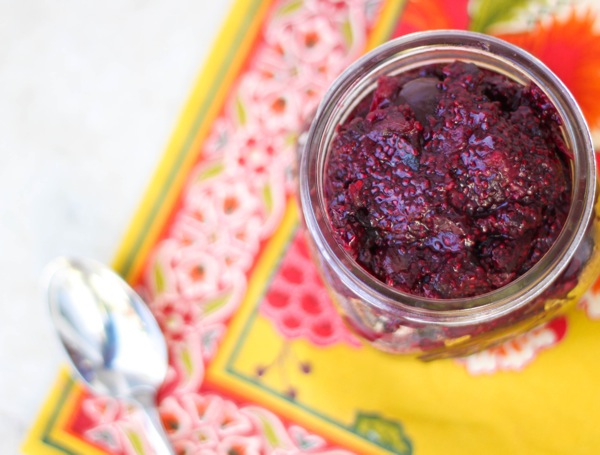 Berry Lemon Chia Seed Jam
One night, I was packing Livi's lunch up for the following day and realized we had no nut butter on hand. A few food processors have died in the quest to make almond butter, but I finally learned the key: patience and rest. It's going to take at least 5 minutes of boisterously loud churning, alternated with bouts of rest to let the processor cool down aka almond butter interval training. Let it cool down in between, or one of two of the following events will occur: the almond butter will have a charred taste to it (disgusting) or said processor will perish from the earth. I'd show you the finished product, but it lasted far less than it took to make it. Oops.
Another easy homemade creation: jam! I've been wanting to make chia seed jam for quite a while, especially since it's a common recipe for this versatile seed. It's also a reason to floss more frequently during the day ?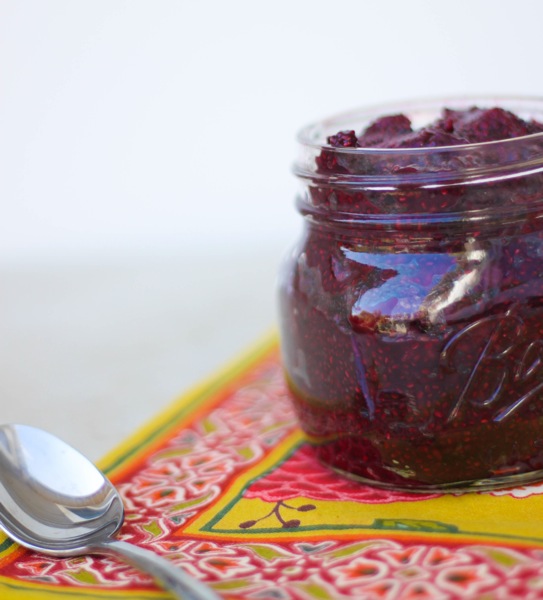 This chia seed jam has a bright citrus flavor, along with a warm spice from the vanilla and cinnamon. It's also sweetened with nature's candy: medjool dates.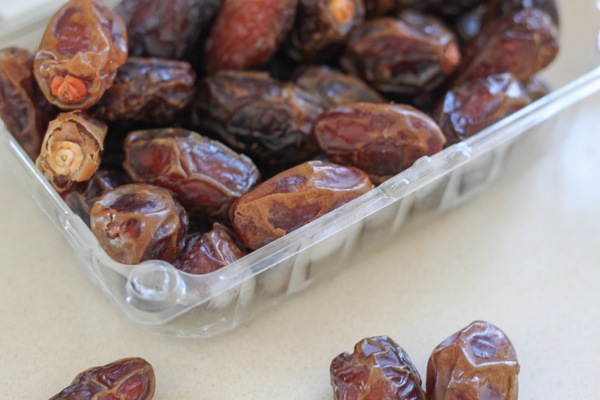 Homemade Jam with No Refined Sugar
I thought about adding in one of my beloved staple sweeteners to the jam (like maple syrup, honey or coconut sugar), but had some dates on hand. They're lightly sweet and add a blast of nutrition, including iron, potassium, and Vitamins A and K. (Check out more benefits and facts about dates here.)
To make this jam, all you do is heat up a pack (16 oz) of frozen organic berries in a medium saucepan.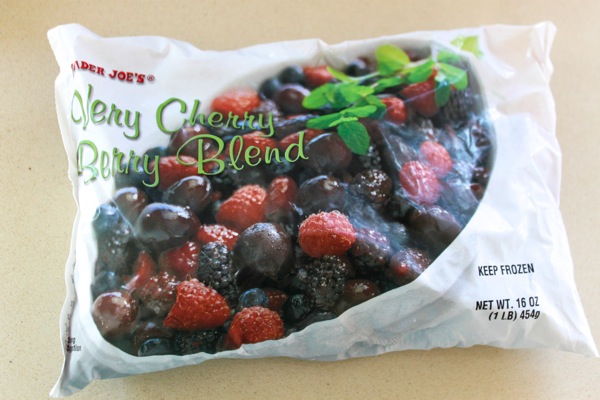 Bring the heat to high, and then after the fruit looks like a dry ice experiment,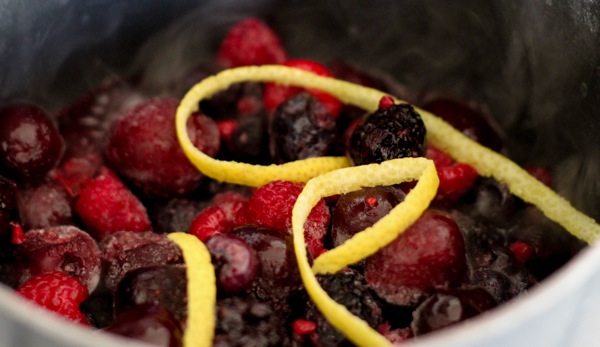 reduce the heat to low and heat for about 5 minutes, stirring occasionally.
Add in a few long strands of citrus zest (they're easier to pick out that way when it's finished and infuse flavor into the jam), 1 teaspoon vanilla extract, 1/2 teaspoon cinnamon and some date paste.
For the date paste, I'll blend up 5 pitted medjool dates with 2 tablespoons water until it makes a thick paste.
Stir in 5 tablespoons of chia seeds, remove from heat, and let set for about 15 minutes. Bring to room temperature before storing, covered, in the fridge.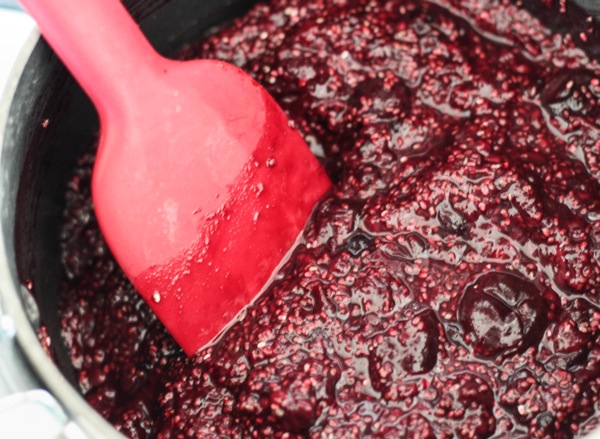 Let me know if you give it a try. This jam makes an awesome sandwich spread,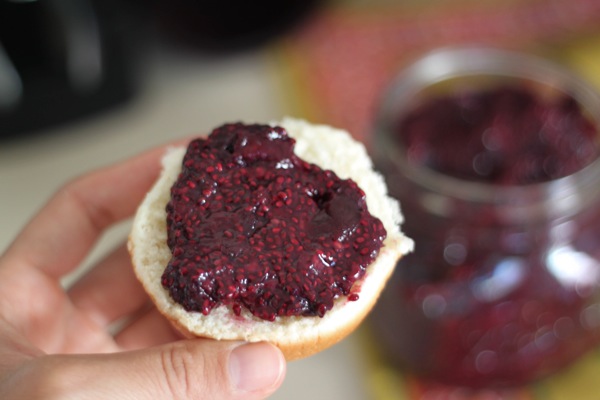 pancake topping and sweet addition to a breakfast cookie.
Print
Berry chia lemon jam
A naturally-sweetened jam using nutrient-dense chia seeds.
Prep Time:

5

Cook Time:

15

Total Time:

20
Scale
Ingredients
16 oz

frozen berries of choice
a few strands of citrus zest

1 teaspoon

vanilla

1/2 teaspoon

cinnamon
date pate (about 1/4 cup: 5 medjool dates pureed with 2 tablespoons water to make a thick paste)

5 tablespoon

s chia seeds
Instructions
In a large saucepan, heat the berries on high until they reach a boil and reduce heat to low. Cook for 5 minutes, stirring occasionally and using a spatula to break up the fruit.
Stir in the citrus zest, vanilla, cinnamon and date paste.
Remove from heat and let set for 15 minutes.
Allow to cool to room temperature before storing, covered, in the fridge.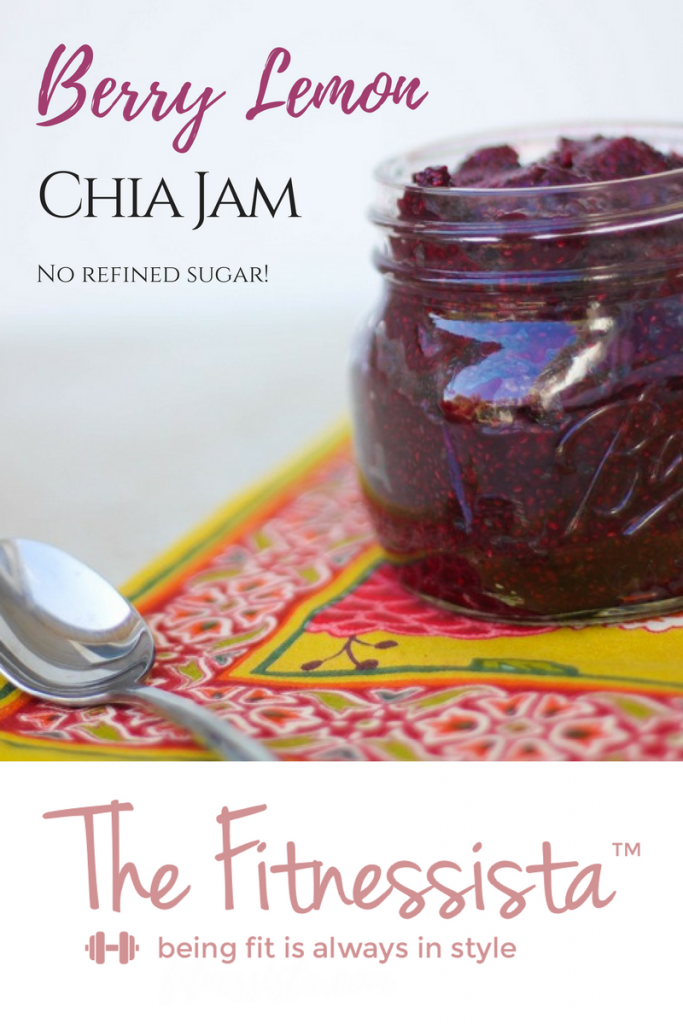 Happy Monday!