This crispy shrimp and rice bowl is a healthy way to satisfy your fried-food cravings! It's loaded with veggies and drizzled with a soy-ginger glaze.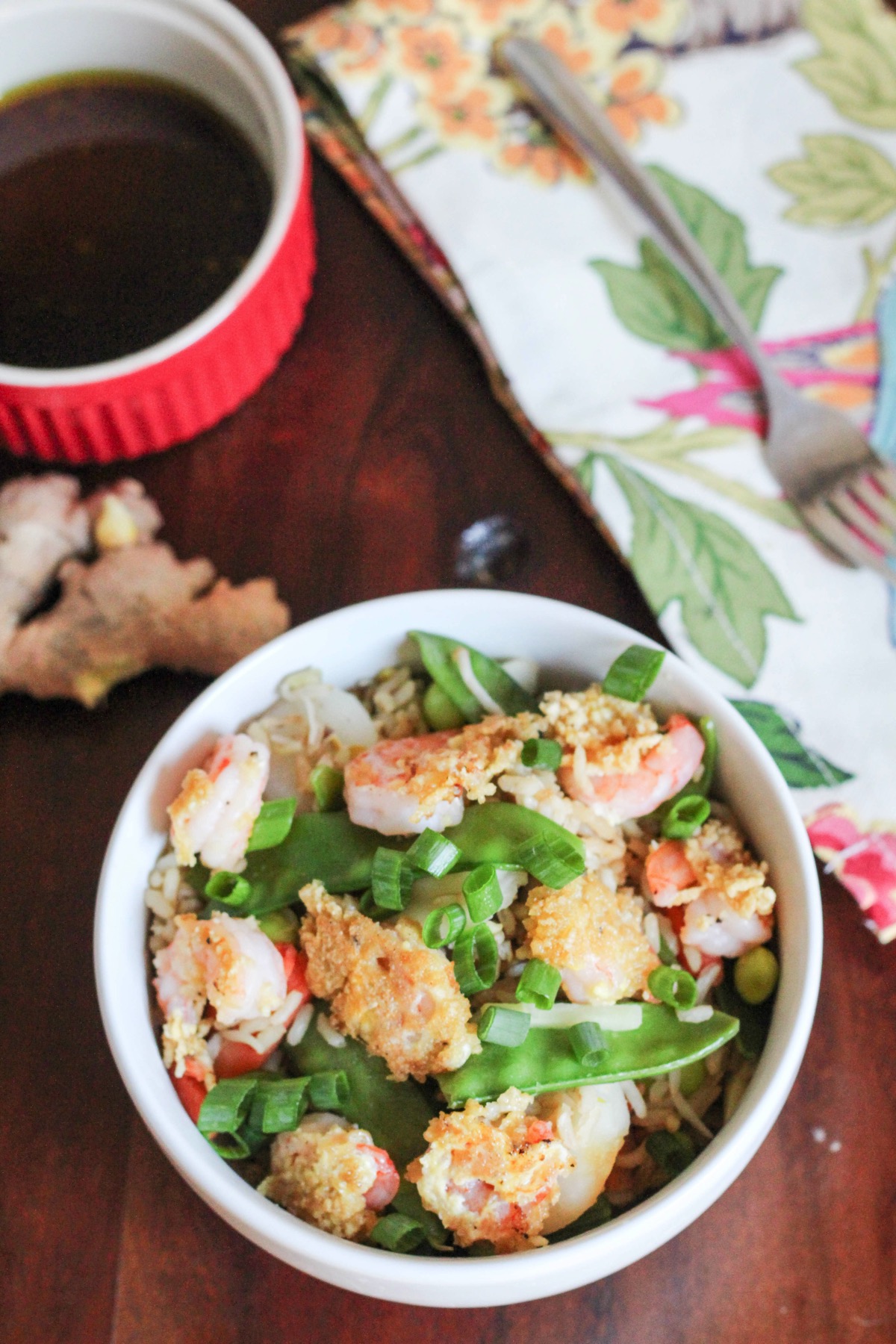 Being pregnant and becoming a mom changed me in a lot of ways. Yes, it made me more patient, my heart more full, and my days more busy (yet fun!). Oh, and it made me like fried food. Like, a lot.
When I was pregnant, even though many people said it was fine, I couldn't bring myself to eat raw sushi. Knowing my luck, I'd be the one to get the bacteria fish and end up with a ton of problems. So, I skipped it. Instead, I went for the "cooked" rolls. "Cooked" = "fried" at the sushi bar. And it was delicious.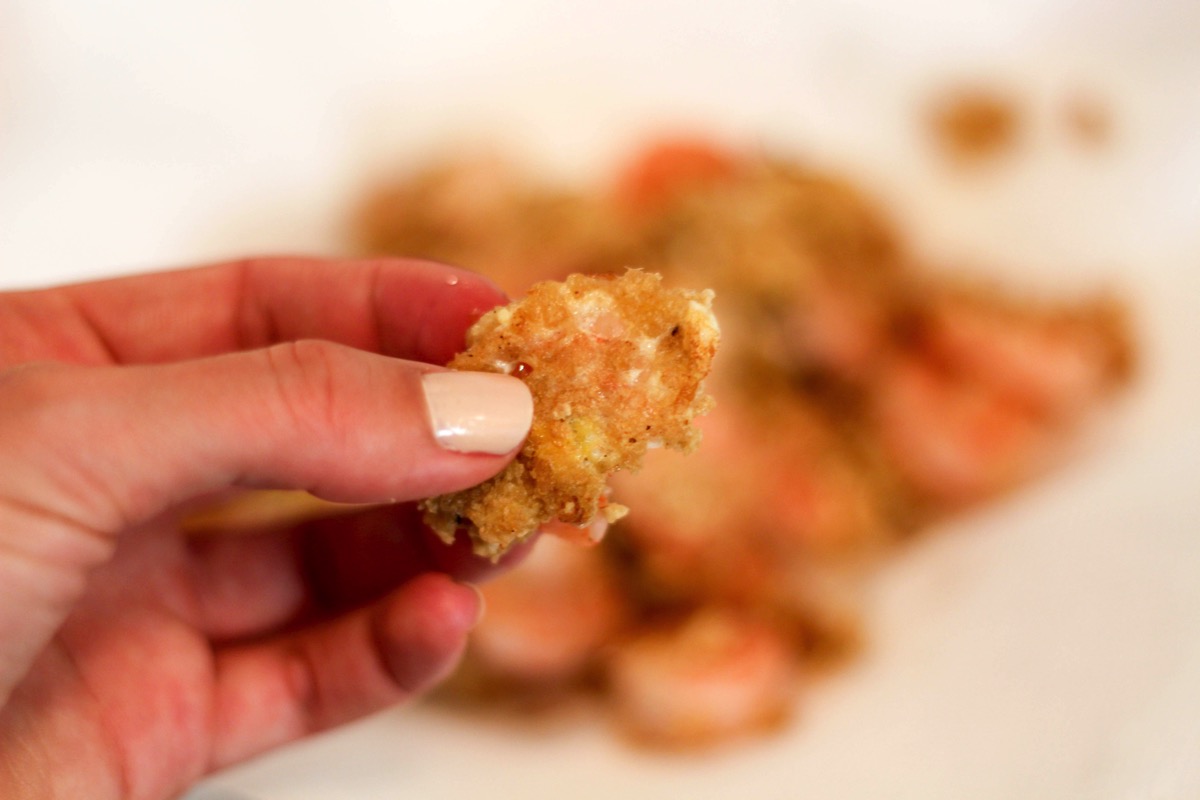 While I'm pretty much back to my old eating ways and cravings, the fried food love has stuck around a little bit. Since it's more of a treat type thing than everyday food, I love to make healthy versions of restaurant fare at home. This is especially prevalent with the sodium content; I control how much salt goes into the food, and can still wear my wedding ring the next day. ?
Crispy Shrimp and Rice Bowl
Here's a delicious twist on crispy shrimp with rice and veggies. It's much lighter than standard restaurant rice bowls, with bold, savory flavors. It makes the entire house smell amazing, and is especially wonderful with a sweet and spiced soy ginger sauce on top.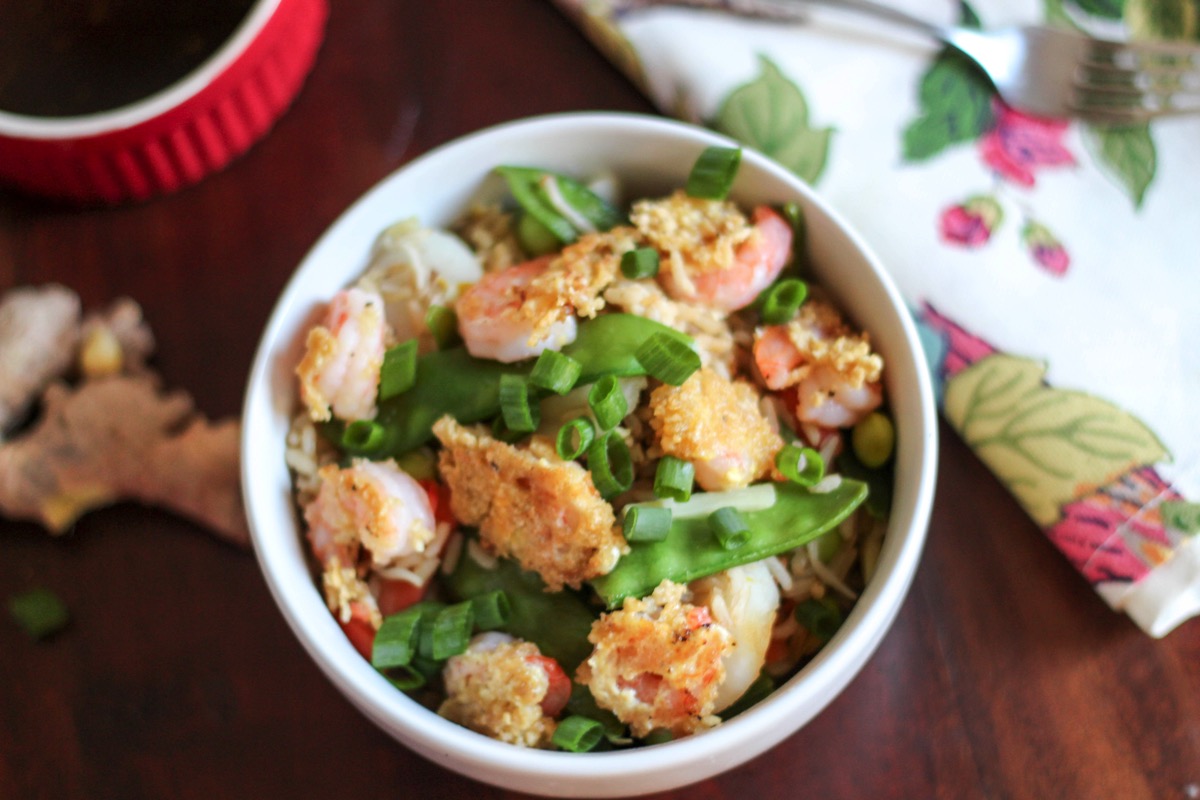 The secret ingredient:
CHEX!!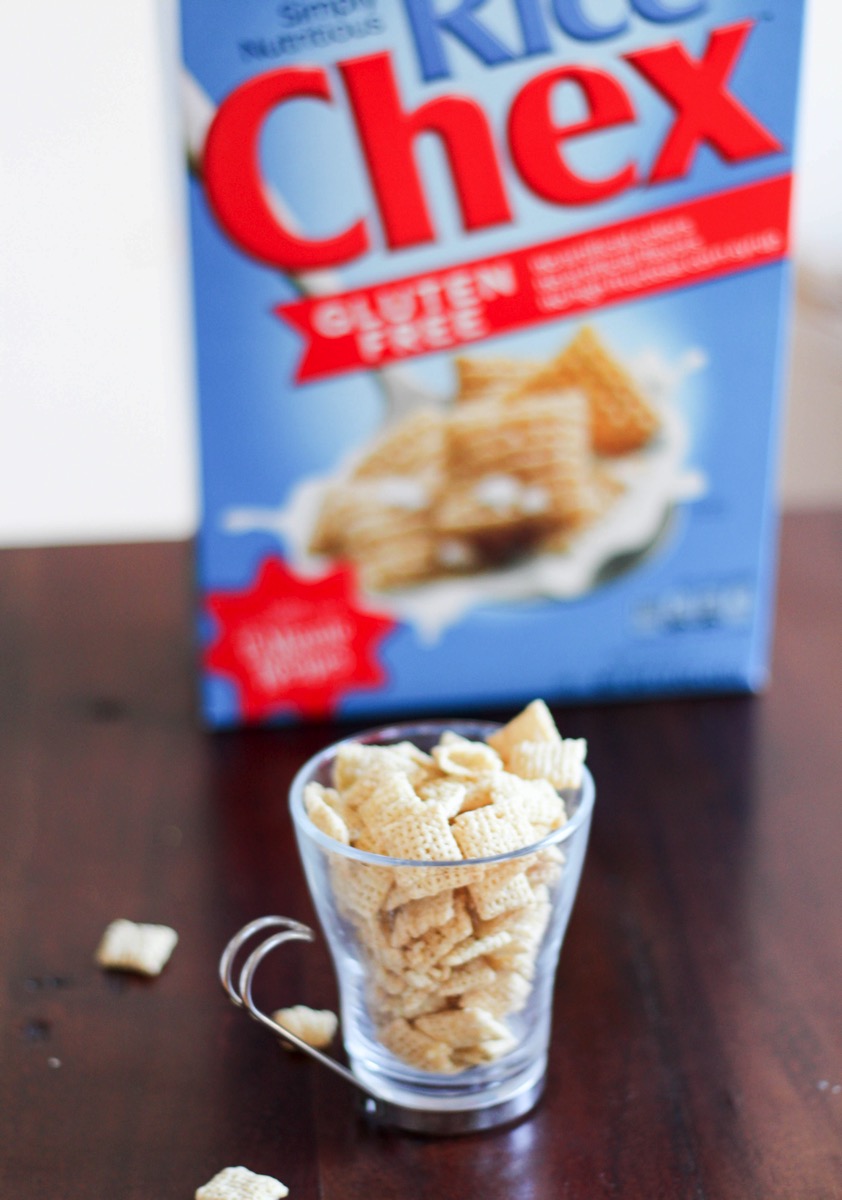 This is one of my favorite uses for this beloved cereal. It makes a light and crunchy coating for fish, baked chicken, and veggie sticks. Simply grind up in the food processor,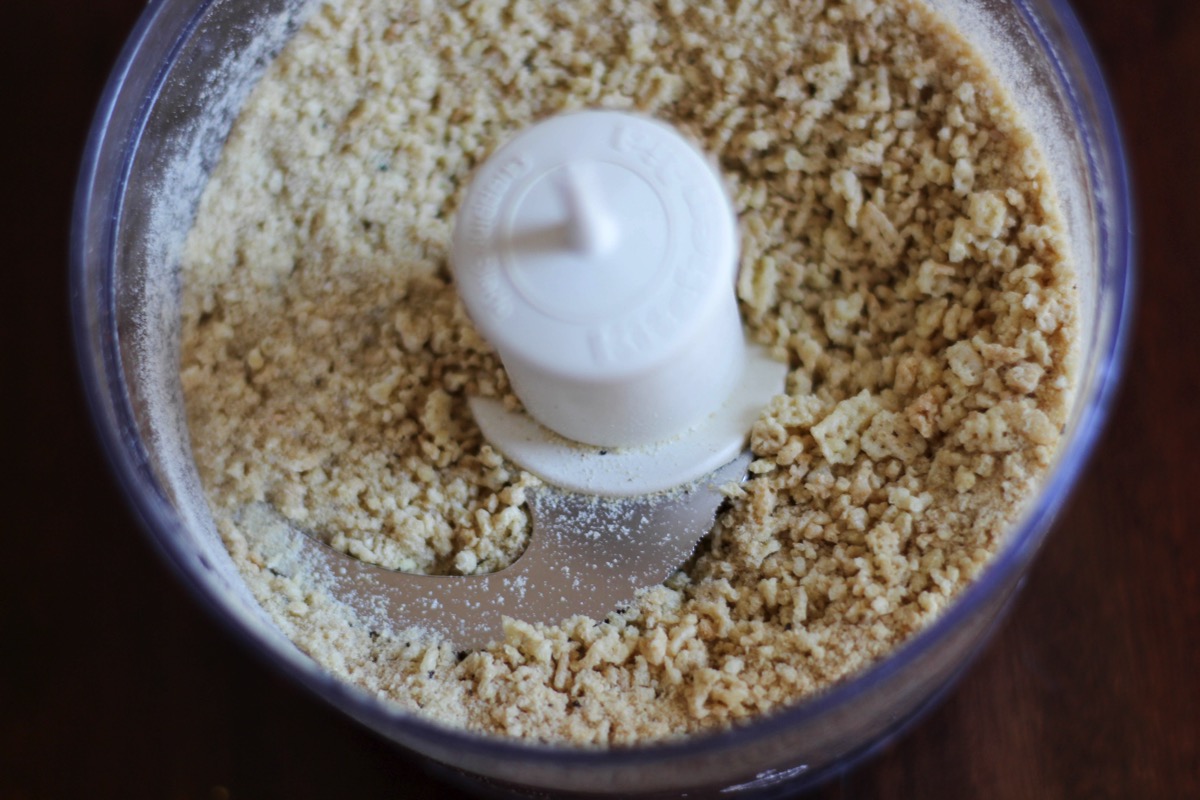 season,
dip,
and fry. I mean "cook."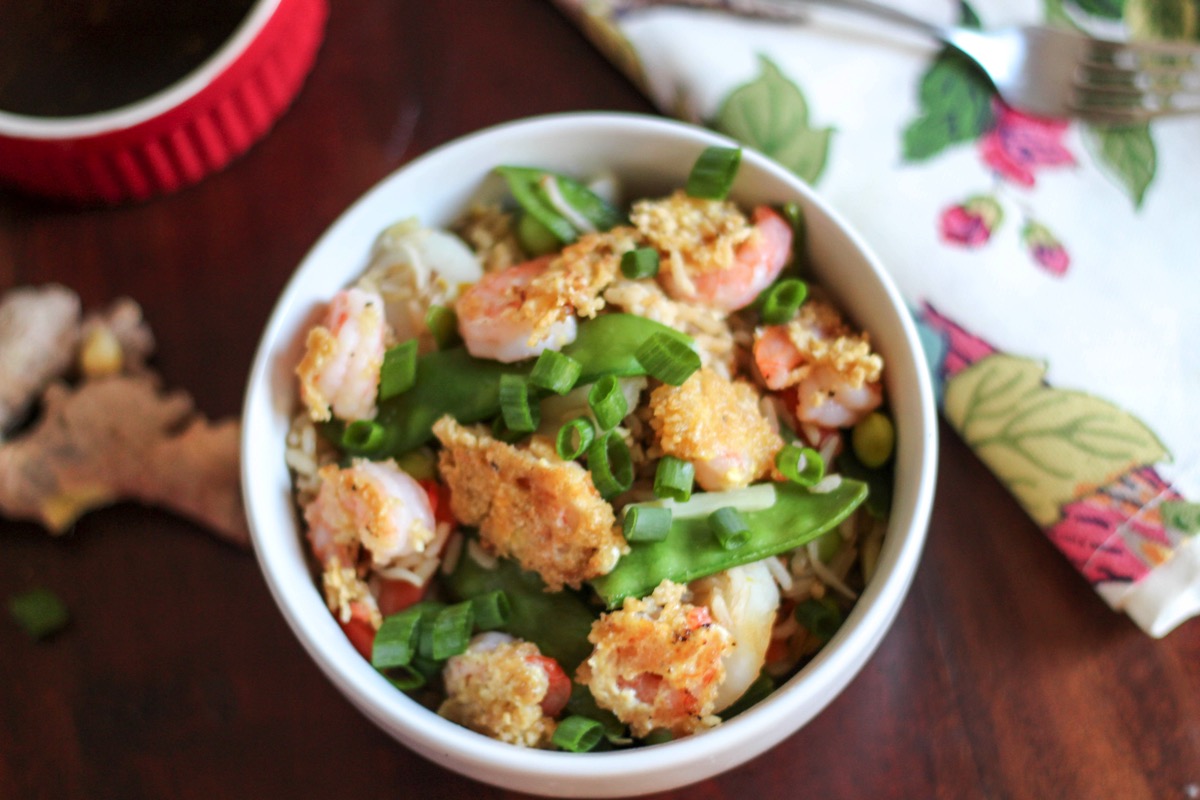 The Chex has simple ingredients, and by cooking the shrimp in coconut oil, it yields a lovely earthy taste, beautiful crisp, and dose of healthy fat.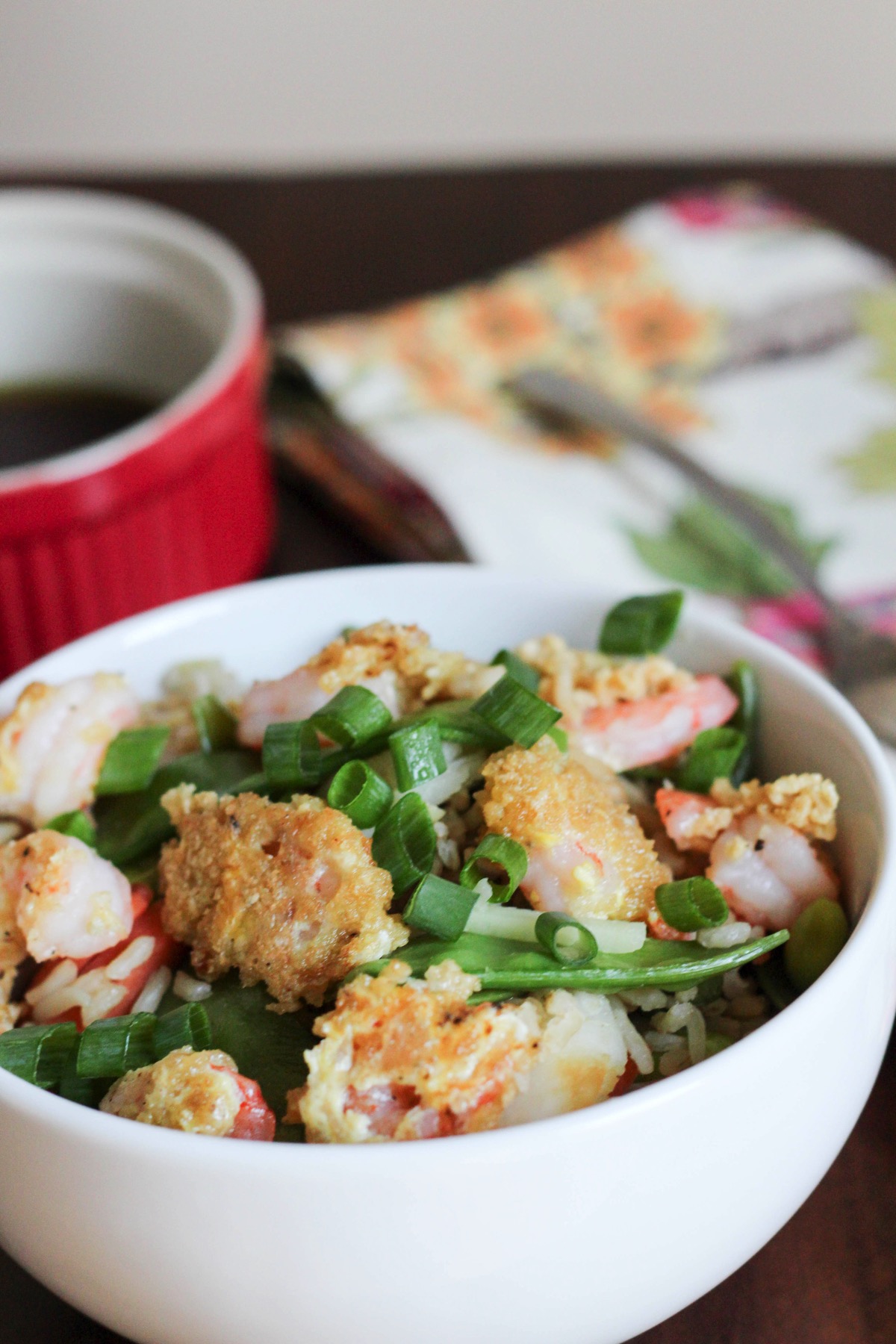 Here's the recipe if you'd like to give it a try! My friends at Chex are also our featured sponsor for Winter Shape Up this week, so be sure to check in with your workout here and enter to win an awesome goodie package.
Print

Crispy Shrimp and Rice Bowls with Soy-Ginger Glaze




Scale




Ingredients

1

lb shrimp, cleaned, deveined and tails removed (I used medium shrimp, but think that large would have been even better)

For the coating

2 1/2 cup

s rice Chex, ground in the food processor

1/4 teaspoon

garlic powder
Salt and pepper

For frying

1

egg
Coconut oil (a heaping tablespoon)

For the veggies and rice

16 oz

stir fry veggies

2 cup

s cooked brown rice
Tamari or soy sauce

For the sauce

1 teaspoon

sesame oil

1/4 cup

olive oil

2 teaspoon

s soy sauce or Tamari

1 teaspoon

rice vinegar

1

clove of minced garlic

1

-inch piece of fresh ginger, grated

1 teaspoon

honey
Salt and pepper to taste

Instructions

Process the Chex until almost a flour, but still with a little bit of texture.
Season well with the garlic powder, salt and pepper.
Pour into a bowl.
Rinse the shrimp, pat dry, and season with salt and pepper.
Whisk the egg in a small bowl.
Dip the shrimp into the egg, then into the Chex mixture and press to make sure it's fully coated. Since my shrimp were smaller, I did this in batches and just made sure to really press the Chex crumbs onto the shrimp.
Place the breaded shrimp on a large plate and heat the coconut oil in a large skillet on medium to medium-high.
Cook the shrimp in the coconut oil for 1-2 minutes per side, until cooked through and golden brown.
Transfer to a plate lined with paper towels.
While the shrimp is cooking, make the veggies and rice.
In a large wok or skillet, heat the veggies on medium-high heat with a little coconut oil and season well with salt and pepper.
Stir frequently.
After 5 minutes, add in the rice, a splash of Tamari and remove from heat.
Next, make the sauce.
Whisk all of the sauce ingredients in a small bowl.
Taste and adjust seasonings as needed.
In each serving bowl, add the rice and veggie mixture with some shrimp on top.
Garnish with sesame seeds and or chopped scallions, and serve with the sauce on the side. Before feasting, pour a little of the sauce on top and enjoy!
What's your favorite restaurant food to cook at home? I used to be intimidated by lobster, but it's become one of my favorites for a fancy dinner at home.
I was hit with a nasty virus, but before I got sick, I had time to make a meal prep post for the week. Coming 'atcha this afternoon!