Dairy-free and healthy, this homemade Orange Julius is a delicious and nutritious treat!
Whenever I visit a new spot, try a new restaurant, or whenever someone else cooks something and I get to eat it, I'm inspired to try out a new recipe or flavor combo. All of the things I ate at CR yesterday were things I've had before (the gf chocolate chip cookies are what dreams are made of), but two things inspired me: freshness (everything is made fresh on site) and summery/springtime meals.
So this morning, when we were out of OJ, I remembered the bag of mandarins we had,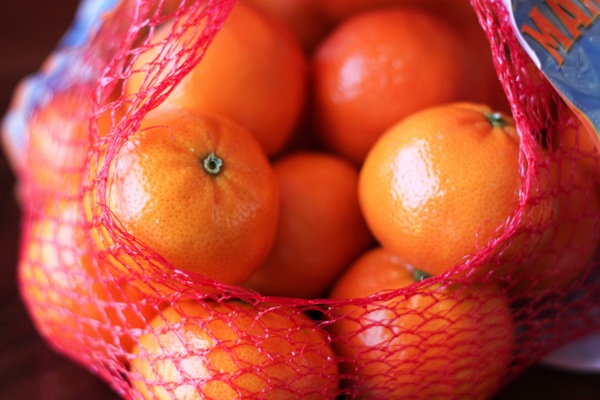 and made some healthy Orange Julius copycats to go with breakfast.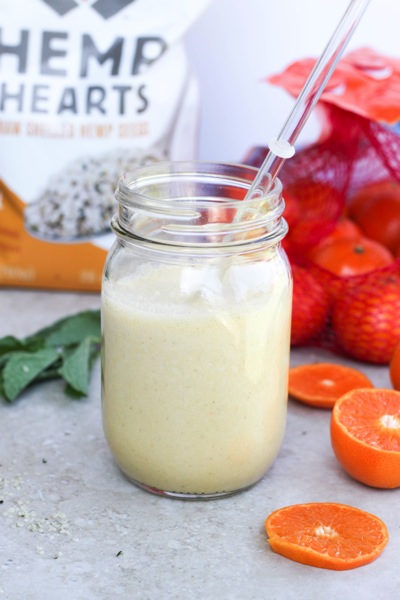 (For the record, I made this to photograph later, long after breakfast. During the actual breakfast ritual, it's survival of the fastest: I'm frantically pouring, scrambling, chopping and slurping coffee while I get our food ready to eat and morning snacks packed up.)
Healthy Orange Julius
For Liv's, I blended two peeled oranges with a cup of whole milk, 1/2 cup of ice and drizzle of honey.
Mine was made with two peeled oranges, one cup of almond milk, 1/2 cup of ice, some fresh mint (for a fresh zing!), two tablespoons of hemp seeds (to add some protein/fat since almond milk is fairly low), and some honey.
Blended on high for about a minute, and it was a refreshing and lovely morning treat with our eggs and waffles.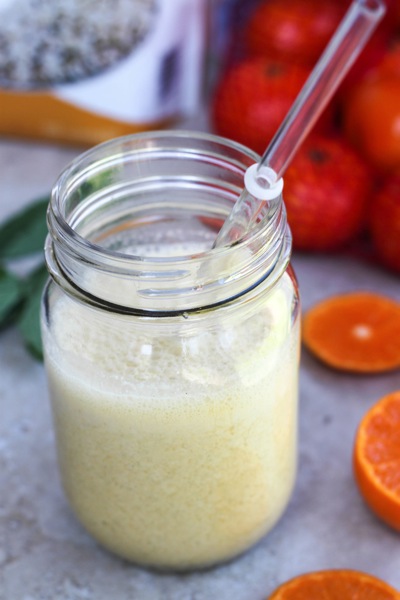 It TOTALLY reminded me of an Orange Julius, which I loved when I was a kiddo. I think it's been years since I've had one, but I think I like the ingredients in this one better ?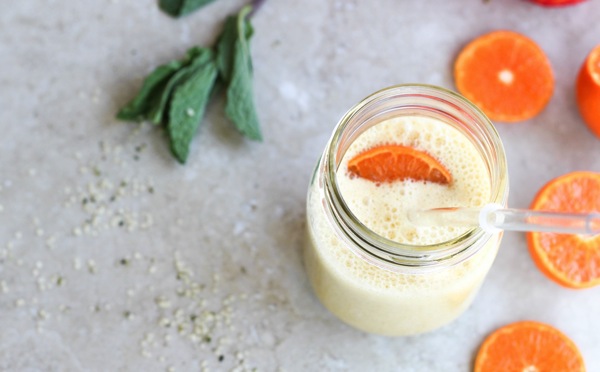 Homemade Orange Julius Recipe
Here's the recipe if you'd like to give it a try!
Print
Homemade Healthy Orange Julius
Scale
Ingredients
2

mandarin oranges, peeled

1 cup

almond milk

1/2 cup

ice
fresh mint

2 tbsp

hemp seeds
honey, to taste
Instructions
Blend all ingredients together at high speed for about one minute.

Natural Air Freshener
Our entire house smells like orange and mint now, too!
Whenever I chop up fruit and/or herbs for photographs, I simmer them on the stove in some water (<– an idea I saw on Pinterest). The key is to make sure there is always water in the pot… otherwise the fragrance quickly becomes "charbroiled herbal death."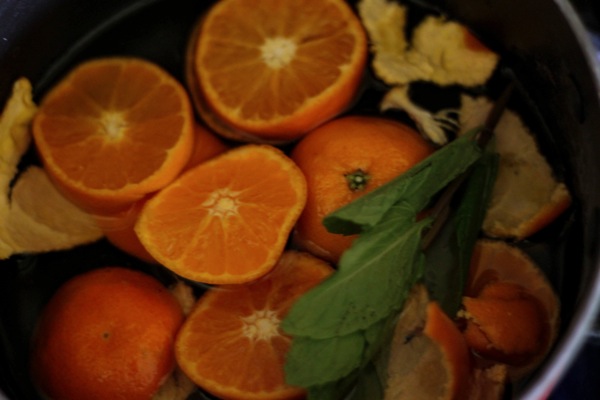 Hope you have a wonderful day <3
See ya later on the Fashion page!