This post is brought to you by Blue Diamond Almond Breeze (aka my favorite almond milk). I'm working with them to create monthly recipes on the blog, and am planning to do only vegetarian recipes. You can check out last month's vegan banana pudding here!
Risotto is one of those things you can file under "things Liv has had before the age of three that I didn't try until my 20s."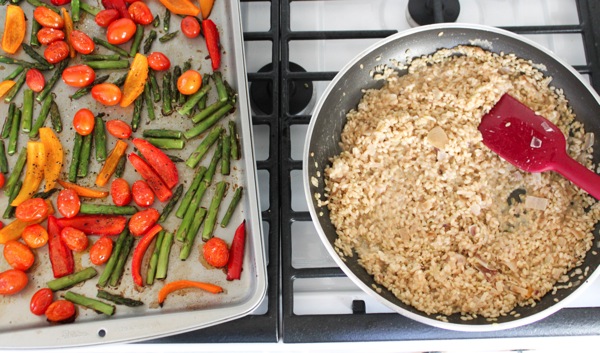 Also on the list:
-chia seeds
-goji berries
-artichokes
-quinoa
-Indian food
-Thai food
Risotto isn't anything extraordinarily fancy or "out there"; it's just something I didn't really experience until later in life. Therefore, please don't count on me for your expert on all things risotto.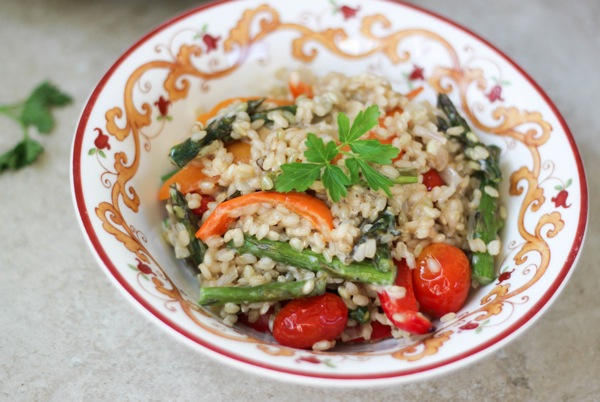 The only things I know:
-you need to use short grain rice. (I tried it once with jasmine rice and BOOM! Rice soup.)
-butter and white wine make it especially lovely
-you can totally use almond milk for the liquid and yield a gloriously creamy creation.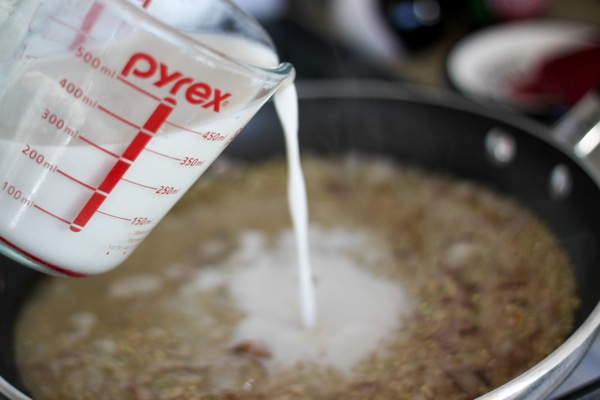 It tastes fancy, and is totally something I'd make to share with dinner guests, but it's also extremely simple to put together.
Here's the recipe: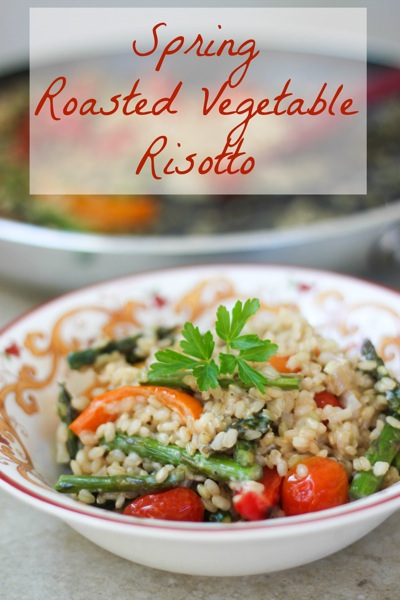 Please let me know if you give it a try!
Print
Spring roasted vegetable risotto
A decadently creamy and healthy side dish for your spring dinner parties! Pair with a protein of choice, or feel dress to enjoy atop some fresh greens as a large salad.
Prep Time:

10

Cook Time:

45

Total Time:

60
Scale
Ingredients
1

shallot, finely minced

2

cloves of garlic, minced

1 tablespoon

butter

1/2 cup

white wine (or vegetable broth)

1/2 cup

vegetable broth

2 cup

s Blue Diamond Almond Breeze unsweetened almond milk

1 1/2 cup

s short grain brown rice (you can also use white, but I enjoy the nutty flavor the brown rice provides)

1 cup

grape tomatoes

1

bunch of asparagus, washed and chopped

2

bell peppers, sliced
Optional: 2-4 oz crumbled goat cheese
Salt, pepper, olive oil
Fresh chopped parsley for garnish
Instructions
1. Preheat the oven to 400 degrees and spray a standard cookie sheet with olive oil or nonstick spray.
2. Add your asparagus, tomatoes and bell peppers to the cookie sheet, drizzle with olive oil and season well with salt and pepper.
3. Place in the oven to cook for 30-40 minutes, until roasted and glorious.
4. Start your rice. In a large saucepan on medium-low heat, add the butter, shallot and garlic. Heat for 3-5 minutes, until translucent, turn the heat to low and add the wine to scrape up the bits from the bottom of the pan.
5. Next, add the broth, the milk and the rice.
6. Bring up to high heat, then reduce to a simmer and cover.
7. Make sure to stir frequently and that there is always enough liquid to prevent the rice from burning. This will take about 45 minutes, so grab a magazine and stay close to the kitchen so you can occasionally stir! (It's worth it, I promise)
8. When the rice is fully cooked, stir in the goat cheese (optional), the roasted vegetables and top with chopped fresh parsley.
Notes
Feel free to use any short grain or Italian rice you enjoy (like arborio, carnaroli or violone nano).
This reheats beautifully, so don't be afraid to make it in advance and heat up for lunch the next day.
Any foods that you didn't try until later in life and loved? I feel like I'm still making up for lost time with the Thai food ?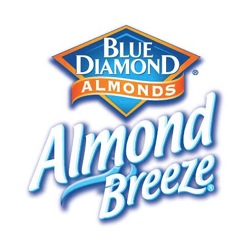 This post was sponsored by Blue Diamond Almond Breeze.