Hi! How's your morning going? I'm excited to share a decadent and healthy recipe with you today: superfood cookie dough!
First, let's say congratulations to the PRO Compression leggings winner, Lauren L.! (Check your email for details to claim your prize!)
I love reading your comments on this morning's post. Speaking of self care, here's that recipe I mentioned for healthy cookie dough that's meant to be eaten raw. It will satisfy your sweet tooth and nourish your body!
Superfood Cookie Dough
Shocker of the year: I made a spherical snack.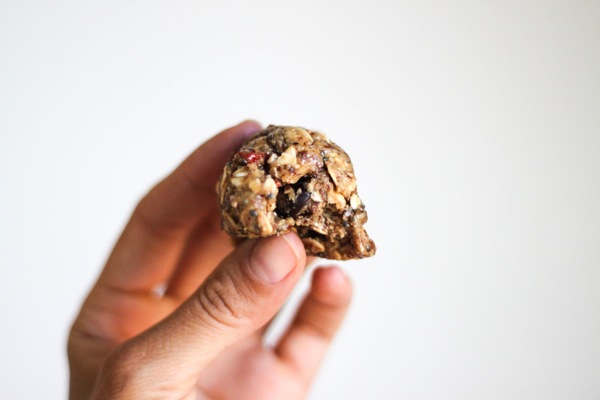 (I get a little carried away sometimes.. they're just so cute and convenient.)

The other day, I had a major sweet tooth attack. It wasn't intense in the way that we needed an emergency drive to The Cravory, but I was definitely in the mood for something sweet. Liv was napping, I was scrolling through Facebook (aka wasting time) and happened upon an energy bite recipe that OTF Point Loma had posted. I had all of the ingredients on hand and decided to add in two of my favorite superfoods: chia seeds and goji berries.
Crisis averted.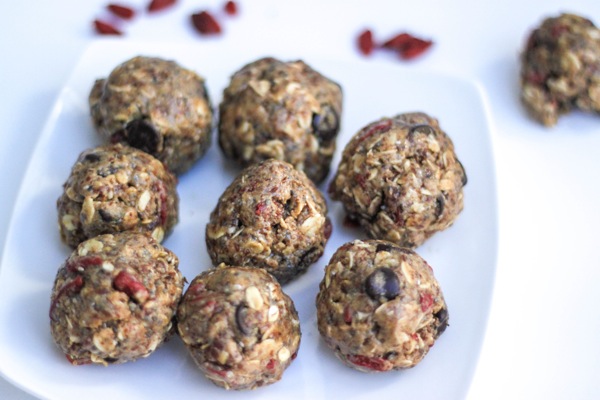 Not only do they taste like cookie dough, but also make a fantastic pre-workout treat with an awesome combination of smart carbs, healthy fats and protein. They last in the fridge for up to a week, so they'd be perfect to make in advance to enjoy for a quick and healthy snack.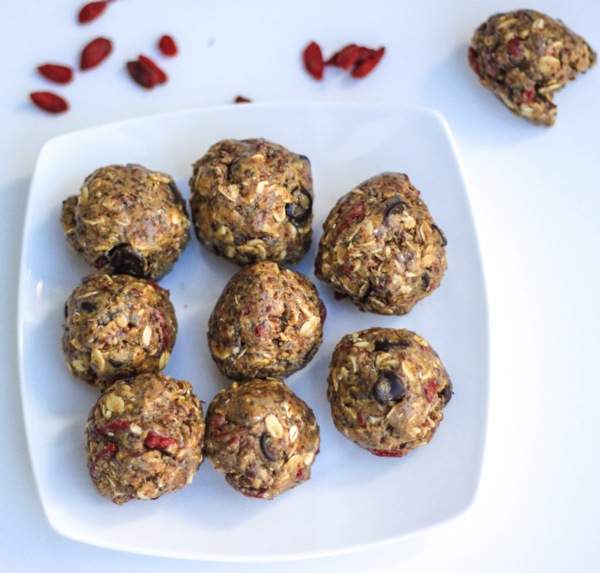 The only downside: I'm not exactly sure of the recipe yield. Some dough went missing in the creation process ?
Print
Superfood cookie dough
A healthy, quick and delicious pre-workout snack, with the powers of super foods along with healthy fats and satisfying oatmeal.
Prep Time:

5

Total Time:

5
Scale
Ingredients
1 cup

oatmeal

1/4 cup

peanut butter

1/4 cup

almond butter (or more peanut butter)

1 cup

almond meal

2 tablespoon

s flax

2

heaping tablespoons chia seeds

2

heaping tablespoons goji berries (or dried fruit)

1/4 cup

chocolate chips

1 teaspoon

vanilla
pinch of sea salt

1/2 teaspoon

cinnamon

1/3 cup

honey + more for texture as needed
Instructions
Combine all ingredients in a large bowl.
Stir well, as it takes a while for all ingredients to fully mix. If too dry, add in some extra honey.
Place in the fridge for about 20-30 minutes to harden slightly.
Use a melon ball scoop to make ball shapes, and roll with your hands to smooth.
Store covered in the fridge for up to one week.
Notes
Enjoy these on their own, crumbled onto yogurt, mixed into oats, or on top of a smoothie bowl!
Hope you enjoy!!
More quick and healthy snacks (many sphere-shaped)
Amazeballs (peanut butter, pumpkin, lemon-blueberry and cocoa berry)
Superfood snack bites
Protein fudge