Last night was girls' night since the Pilot had a late flight. When Liv woke up from a 3-hour nap (I finished up some to-dos, and even got to read and paint my toenails! Hallelujahhhhh), we had an awesome lunch together.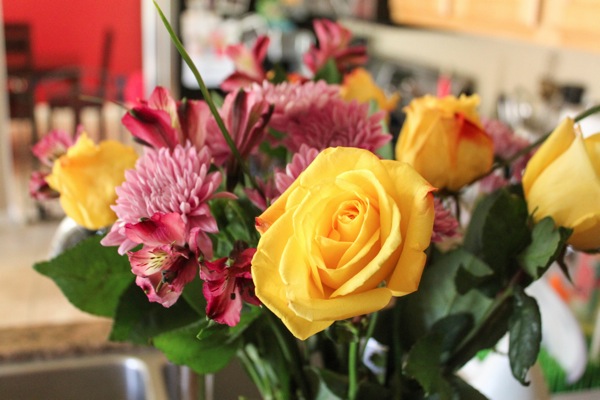 I'd been wanting to make her something with fresh basil since she loves picking leaves out of our herb garden to eat. So, during naptime, I whipped up a quick pesto for us to enjoy, changing up some of the usual suspects: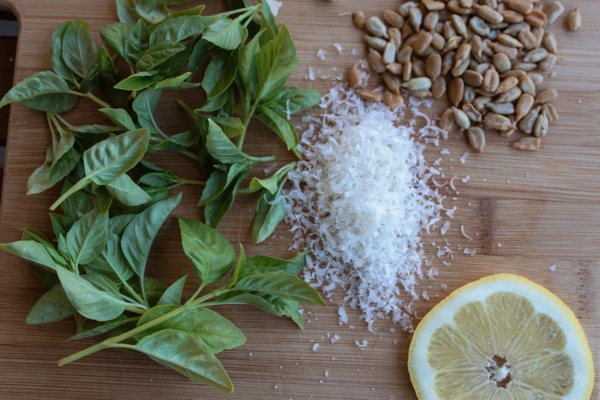 Sunflower seeds for the nuts, goat cheddar for the cheese + a handful of spinach for extra greens
Into the food processor, I combined the above ingredients with a squeeze of lemon, a handful of fresh basil leaves, sea salt and pepper, then after everything was combined, I added garlic-infused olive oil.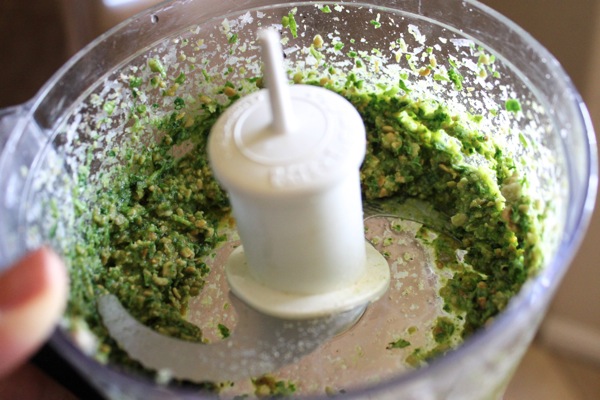 The pesto was the perfect topping for spiralized sweet potato noodles: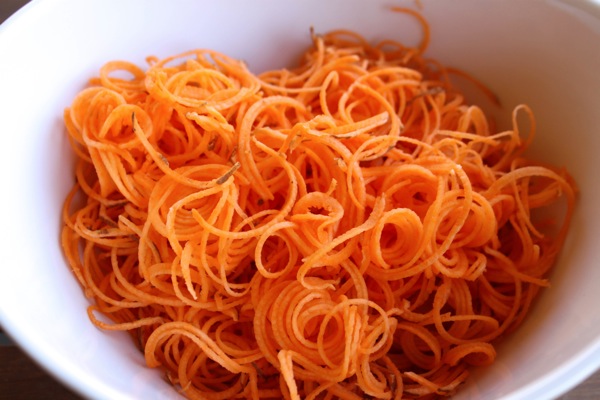 To spiralize root veggies, I use the Joyce Chen spiralizer that I bought a couple of years ago from Amazon
. Despite mixed reviews, it's always worked well for me (once I figured out how to use it!) and I haven't had any probs. I looooove being able to spiralize veggies for refreshing summer pastas ?
I boiled the sweet potato noodles for about 3 minutes, which wilted them down a little, but it helped the sauce fully saturate every noodle: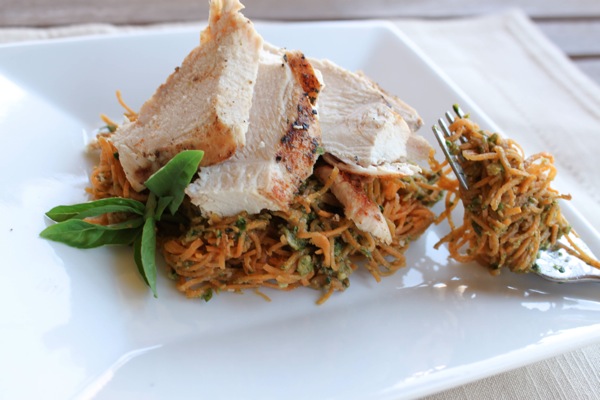 I topped the pasta with leftover chicken, and during the entire meal (which also consisted of a banana and some cheese crackers for the little lady), Liv kept saying, "Yummmmm. Mom! Yummm"
It's very common for our family to make audible sounds of gratitude while eating ?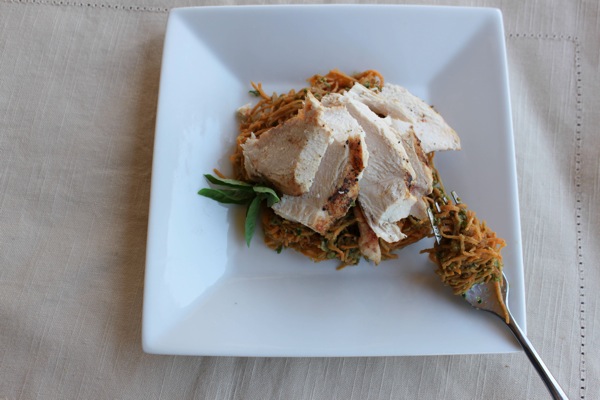 If my veggie/vegan friends want to make something similar, just skip out on the cheese and replace the chicken with hearty balsamic mushrooms (I just typed muscles. Yum), or pan-fried tempeh. Paleo friends could just skip the cheese ?
After lunch, we finally got dressed for the day,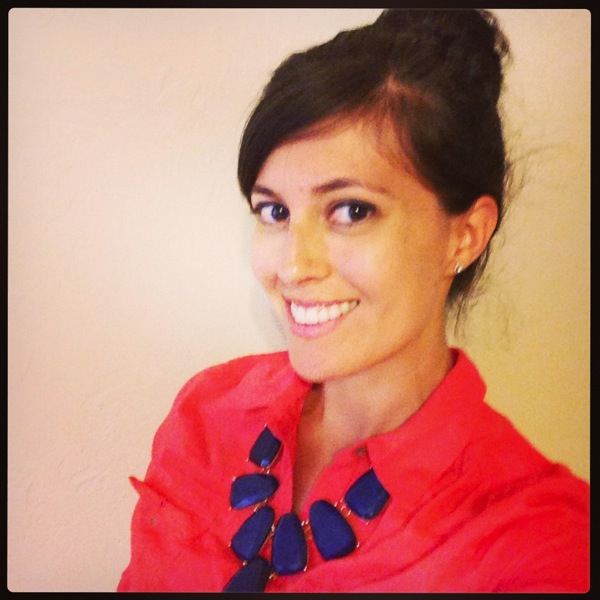 (bunmaker FTW!)
went to visit with the fam, and had dinner at Sweet Tomatoes. We're pretty sure Sweet Tomatoes is Liv's favorite spot — they have everything she loves to eat, including pizza, soup, cornbread, chocolate muffins and salad fixins' (especially the beets, shredded zucchini and garbanzo beans).
We came home to get ready for bed, I enjoyed a glass of wine, a yoga podcast and called it a night.
For yoga, I tried out a new-to-me class from YogaGlo. I haven't been doing many at-home yoga classes since I've been fortunate to attend live ones, but they were  essential when we lived in Valdosta without a yoga studio in sight. The class was a sweaty 45-minute flow, and I got to practice some arm balances that I'm working on. I paid $18 for the month, but the first 15 days are free, so I'll be able to try it out a few more times and decide if I want to keep it. As of now, I'm a huge fan! It's also cool to see a familiar Tucson face on there. I take Darren's class occasionally at Yoga Oasis (amaaaazing)… I'm pretty sure the man is missing a few ribs ?
This morning, I'm off to a fun photo shoot. I'll be back with more details later and will definitely post some pics on Instagram!
Hope you have a wonderful morning <3
What was your favorite restaurant as a kid? I loved Olive Garden (never-ending salad and breadsticks!) and Fuddruckers. If you're a yoga fan, how often do you practice at home?
****Sending love and prayers to all of those affected by the storms and tornadoes. If you're looking for ways to help, check out this article <3