Whenever I see the fam, I can expect the usual shenanigans. Food and laughter are the main components, with lots of stories, random games, spontaneously passing out on the couch from a food coma, and then repeating. I can also expect that my Uncle E will share some amazing cooking tips or a new recipe with me. Whenever he talks, I'm like a sponge; he's given me basic cooking tips and some of my beloved go-to recipes. The first time I made our favorite maple salmon was after he gave me the recipe on my phone during a lunch break at work. I scribbled it down on a piece of paper -this was pre-texting days, of course- and made it for the Pilot that night. We've had it at least once a month ever since.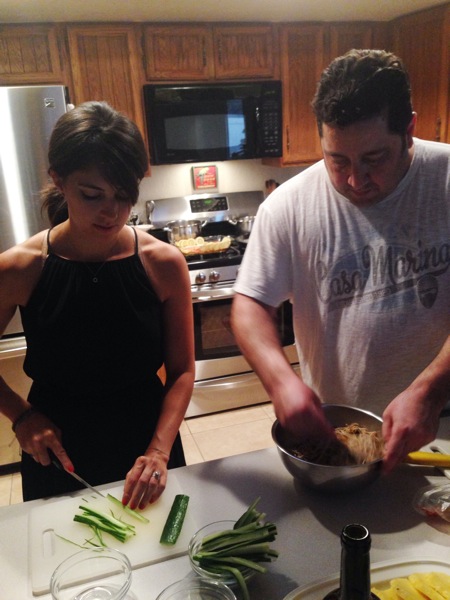 He's also made some incredible dishes to share on the blog, like this turkey bolognese, lavender honey salmon, and the best pasta salad ever.
And now, the best vegan sushi ever.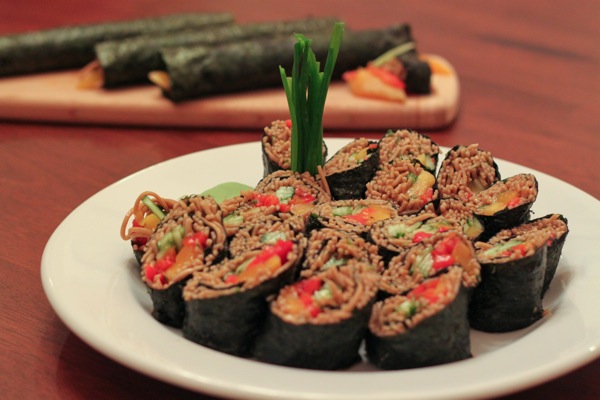 Since it's vegan, you skip out on the fish, but here's another kicker: no rice. This sushi uses soba noodles instead, and is out of this world. I can't wait to make it again!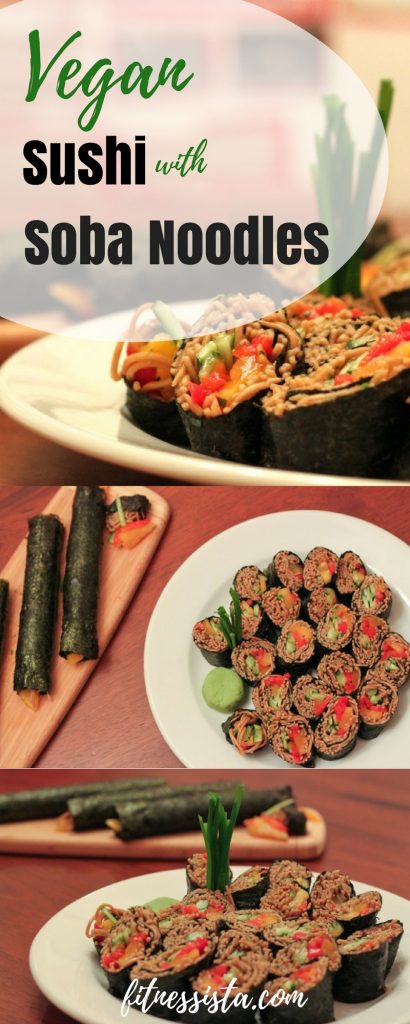 Sushi used to be one of the foods that I found super intimidating. Then, I actually gave it a whirl. It's easy, and the nori wrapper is extremely forgiving. Also, if the whole rolling thing doesn't work out: just chop everything (including the nori) into a sushi salad.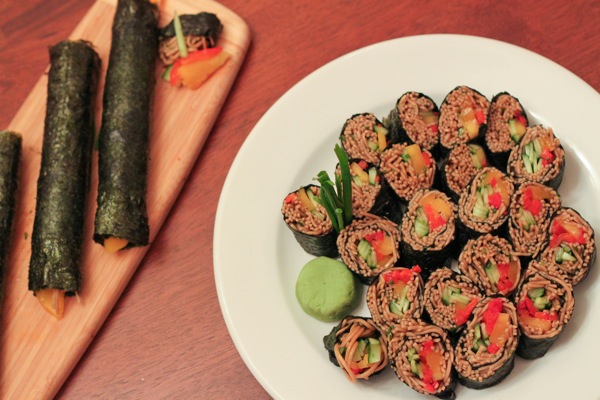 Here's the recipe for these incredible noodle rolls:
Print
Vegan Soba noodle sushi rolls
A unique take on sushi, using seasoned noodles instead of rice. This recipe is also vegan, with fresh sliced veggies, fruit, and a zesty teriyaki dipping sauce.
Author:
Prep Time:

15

Total Time:

15

Yield:

8

1

x
Scale
Ingredients
One (9.5oz) package of soba noodles, cooked
One pack (8 sheets) nori
One cucumber, seeded and julienned

1/2 cup

roasted red peppers, julienned

1/2

mango, julienned
For the teriyaki dipping sauce
1 cup

teriyaki sauce (store-bought or homemade)

1

heaping tablespoon of lime zest

2

heaping tablespoons of chopped cilantro
Instructions
To make the dipping sauce and noodles
Combine the ingredients for the dipping sauce in a medium bowl. Drizzle some over the cooked noodles to flavor and coat well.
To prepare the sushi rolls
Spread out one piece of nori (shiny side up) and add some noodles to the bottom 1/3 of the sheet. Using your hands or a spoon, press down and make sure the noodles go from end to end on the bottom third of the sheet.
Add a few slices of cucumber, some bell pepper and mango.
Roll the nori away from you, using your hands to pack the roll tightly.
Wet the edge of the nori before rolling the final portion, and place seam side down on a baking sheet.
After all rolls are completed, use a sharp serrated knife to cut into bite-sized pieces.
Serve with wasabi and teriyaki dipping sauce.
Notes
Nori can be found at most health food stores and at Asian supermarkets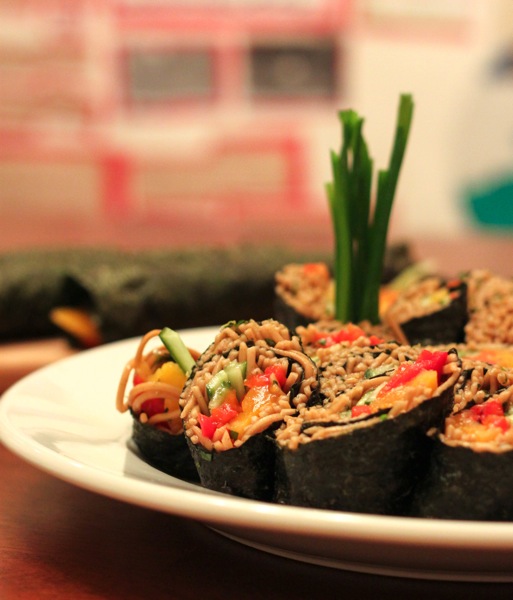 If that wasn't enough foodgasm for ya, check out the rest of this delightful feast.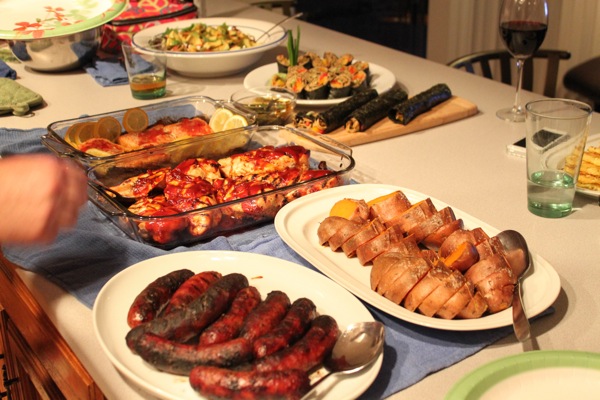 Grilled bratwurst, salted sweet potato rounds, BBQ chicken, spicy lemon salmon (recipe to come), said best sushi rolls ever, this salad: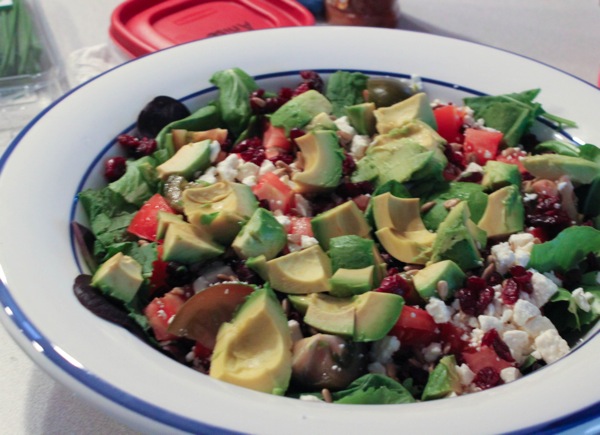 (sorry, it's kind of blurry. I start shaking when I get really excited about a salad.)
grilled vegetables, corn and pineapple.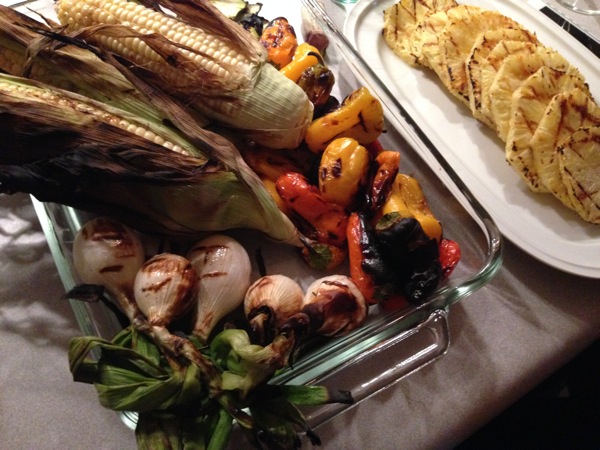 Chefs in the kitchen.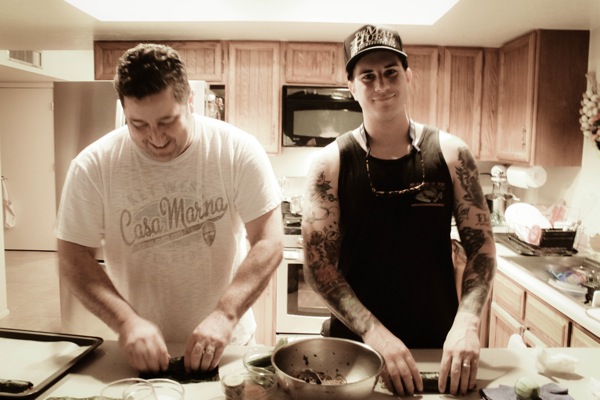 This dinner together was the epitome of what I love about Tucson, and a gentle reminder of what I'm thankful for daily: in the family department, I was truly blessed. <3 I miss them already, but before I know it, we'll be back at my uncle or mom's house, cooking, laughing, piñata-ing, and watching the little cousins play and run around. ?
Hope you have a great morning <3
When you think of your family, what's the first thing that comes to mind?
New post on the Fashion page: sale fitness finds!