As you can guess from the title, this recipe is all things good in the world: chocolate, gooey, cake, yes. They're also grain-free and accidentally egg-free. I went to add in the egg and we were OUT OF EGGS. Emergency crisis. I ended up giving them a whirl anyway, and the result is dense, fudge-y and glorious. The texture is a little different than a cake -they don't really "set" until you allow them to cool and can place in the fridge for a while, too- and they're dense and gooey. Basically they're nuts and chocolate; so pretty much like eating trail mix, right? Right.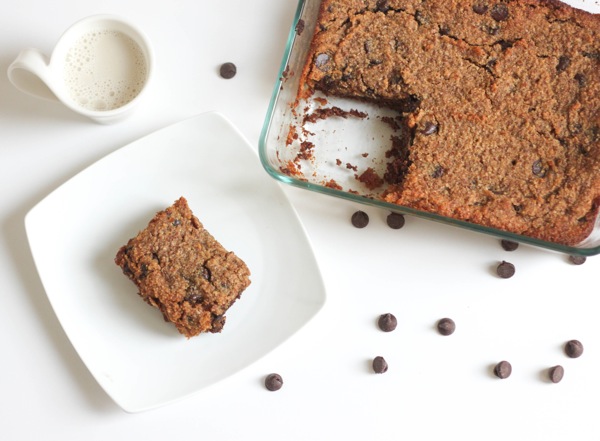 I'll stop trying to explain it and just say you should try it.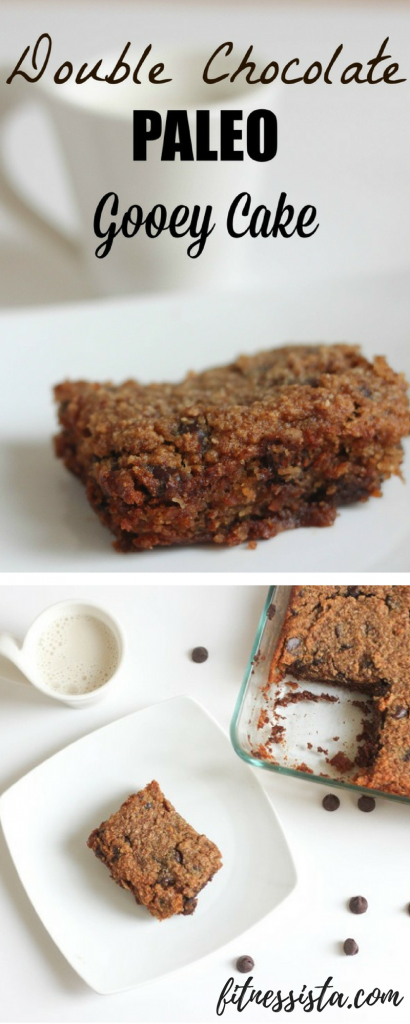 These brownies/cakes/bars/things are a little more labor-intensive than the usual holiday cookie, but I PROMISE they are worth it. I mentioned this idea to the Pilot, and I'm pretty sure he asked me twice if I had made them yet. And then we ate half the pan and high-fived each other repeatedly.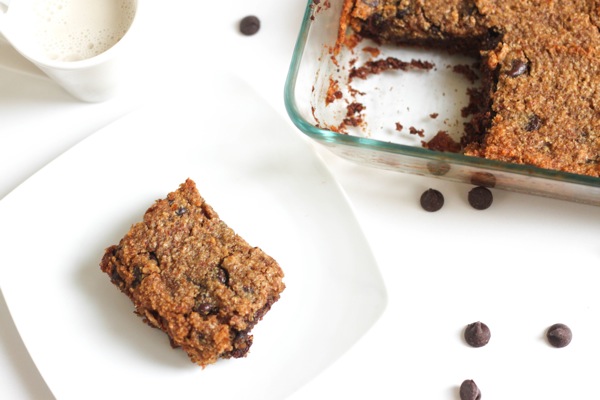 Paleo Chocolate Gooey Cake
These gooey cakes were inspired by the beloved Paula Deen versions (which if you haven't tried, you need to at least once in your life). I wanted to try creating layers, with a chocolate layer on the bottom, and a lighter, chocolate chip cookie layer on the top.
This is what happened: fudge brownies,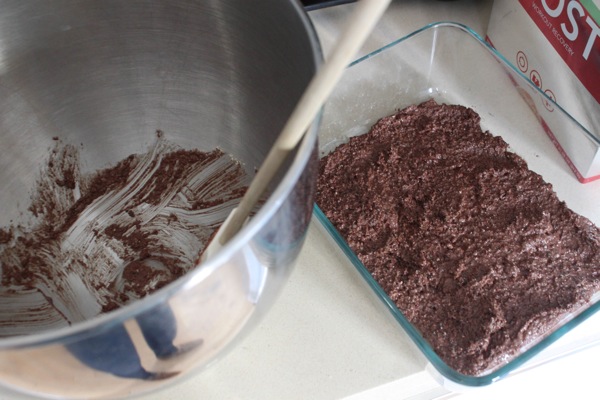 topped with light and sweet cookie dough,
with chocolate chips throughout.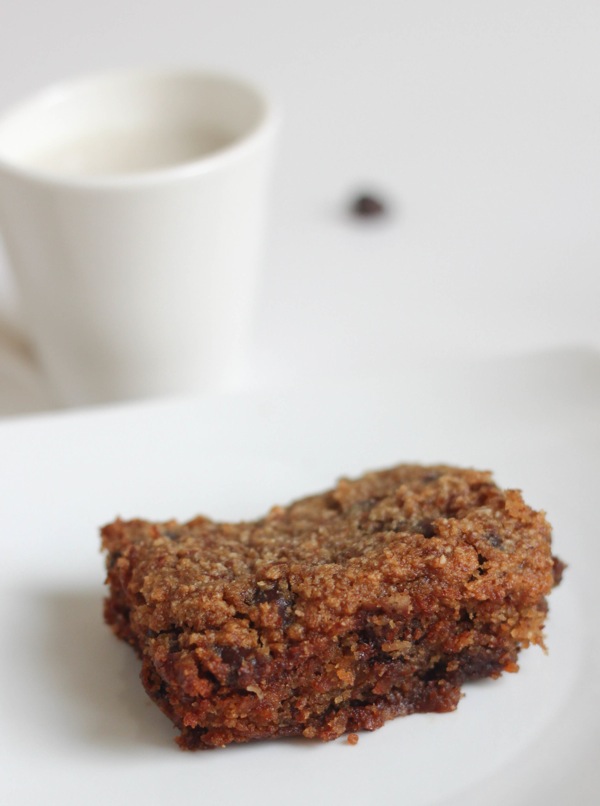 Make these as a gift (or a gift for yourself) or for your holiday cookie tray, and watch them disappear.
Print
Double chocolate Paleo Gooey Cake
It's like a brownie, a cake, and a pan of hot chocolate-y almond butter all in one. Just go for it.
Prep Time:

10

Total Time:

10

Yield:

8

1

x
Scale
Ingredients
For the brownie layer
1 cup

almond meal

1/2 teaspoon

baking powder
Pinch of sea salt

2 tablespoon

s coconut oil

1 tablespoon

honey

1 teaspoon

vanilla

1/2 cup

chocolate chips, melted in the microwave or a double boiler

1 tablespoon

chia seeds
For the cookie dough layer
1 cup

almond meal
Pinch sea salt

1 teaspoon

vanilla

2 tablespoon

s coconut oil, melted

3 oz

plain applesauce

1/4 cup

chocolate chips

1/4 cup

coconut sugar (or brown sugar)
Instructions
1. Preheat the oven to 350 and grease a small baking dish (I used 8×8) with coconut oil.
2. In a large bowl, combine all of the ingredients for the brownie layer. I like to mix the melted chocolate chips with the coconut oil and honey before adding to the dry ingredients.
3. Spread the brownie layer on the bottom of the dish, and place the dish in the freezer while you prepare the cookie dough layer.
4. Combine all of the ingredients for the cookie dough layer in a large bowl. Gently spread on top of the brownie layer.
5. Bake at 350 for 28-30 minutes until fluffy and golden.
6. Allow to cool before serving. If you like a softer texture, enjoy straight out of the oven with ice cream. If you'd like these to set a bit more, allow to cool completely and place in the fridge for an hour or so.
Notes
For dairy-free chocolate chips, check out the Enjoy Life brand.
Enjoy!
Gina
Any fave healthy recipes to share?? Feel free to link away below! It will help everyone out who may be looking for last-minute ideas.
Some more ideas:
Molten almond butter cakes
Avocado chocolate chia pudding
My favorite chocolate chip cookies
Chocolate orange goji berry clusters
Berry crumble in a jar
The famous dump cake